Your flood insurance stories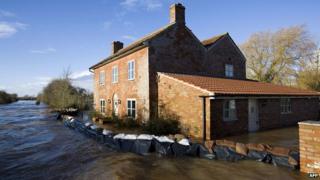 Flooding caused by weeks of winter storms has wreaked havoc on thousands of properties, leaving householders relying on insurance to help them get back on their feet.
While insurers say they have paid out £14m to flood victims since December, many people have experienced problems.
The plight of flood victims has prompted Prime Minister David Cameron to ask insurers to deal with flood claims as quickly as possible.
Here, BBC News website readers share their experiences of dealing with insurance companies following flooding of their homes.
Lyndsey Hancock, Aylesbury, Buckinghamshire
On 7 February we were woken up by our my local MP in his wellies who told us to leave the house.
The next hour was spent furiously moving anything and everything we could upstairs and my husband moving sandbags in front of the doors; my husband had just finished laying the last of the sandbags when the water started coming in from underneath the floor.
The water swept through the house, and all the flooring and the furniture we couldn't move was ruined. The insurance company were very helpful and even sent out their loss assessor on the Monday following the flooding.
A week on, we hadn't heard anything from them while our neighbours were busy rebuilding their lives around us.
Finally we had some good news and we finally heard back from the insurance company after a week-and-a-half wait. We've now got people ripping up the floor and installing a dehumidifier to dry out the house so we're making progress.
Jeanette Shipp, Surrey
On Christmas Eve my home was flooded by the River Mole overflowing its banks and also by surface water from the surrounding area. The house was uninhabitable, and I finally managed to notify my insurers on Boxing Day.
I am having difficulties with my insurers. Initially, they began to handle the claim, although they did not actually attend the property until 2 January.
After two-and-a-half-weeks the loss adjuster rang to say that I was not covered as I live within 200 metres of the river. I am currently disputing their decision, as this company was selected for me by my broker.
They were aware of the geography of the location when I chose to place my insurance through them about four years ago. I paid a substantial premium for my cover and expected to get a service from them.
I am still waiting to hear back from the insurance company and don't know what to do. I am doing my best to dry the house myself but need to be able to have professional help.
Suzanne Stevens, Washington, Tyne and Wear
We were flooded in June 2013. We don't live near a river, however. Neglected drains were the cause, but our local council claimed it was the sole cause of the deluge which engulfed the North East that day.
Our insurers were pretty good with us at first. They arranged for us to move to a hotel while work was done on the house. We ended up staying in a hotel for nine weeks before we moved to a rented house for six months.
When we finally moved back into our own home I made a statement for the insurance company, explaining that the flooding was down to the neglected drains, which were the council's responsibility.
The insurance company are taking the council to court to claim back their losses. Meanwhile, when our home insurance came up for renewal nobody would touch us.
It's been exhausting fighting constantly for what is rightfully ours. We paid into a policy in good faith and it paid out when it was needed. But we can't get insurance now.
Victoria Nolan, Exeter, Devon
I've been living in our home near the River Ex for seven years and only this year have we had trouble renewing our home insurance.
Our home insurance was recently up for renewal, but when we contacted our insurers they wouldn't cover us for flooding.
We went to a local insurer that recommended we go with a large company, but including flood cover they were quoting £783.96.
In the end we've had to go back to our original insurance company, but without flood cover, costing about £185.
The only thing I can think of is that when we moved in seven years ago there was a one-in-100-year chance of being flooded, but according to my local MP, Ben Bradshaw, there is now a one-in-40-year chance of flooding.