UK floods: More rain and high winds forecast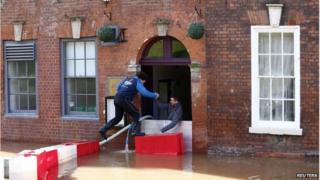 A new band of heavy rain is expected to hit the UK on Friday, as engineers work to reconnect power supplies cut off by Wednesday's storm.
Forecasters expect the rain to reach the South West at about 06:00 GMT before moving north across the country.
But BBC Weather's Darren Bett offered some hope to flood-hit areas, saying this severe weather was "hopefully the last in a long line" to hit the UK.
Very high winds are forecast for Friday evening and Saturday morning.
Our forecaster said there would be rain for most of the UK on Saturday, with up to 40mm (1.5in) in some parts of south-west England, where many areas are already flooded.
This would fall as snow on hills in places including Wales, the Pennines, Northern Ireland and Scotland, he added.
High winds - with gusts of 60-70mph inland and up to 80mph on England's south coast - are expected from Friday evening until Saturday morning.
The Met Office has issued several amber and yellow weather warnings for rain, wind and snow.
Our forecaster said some showers and high winds were expected on Saturday, but Sunday should be "mostly dry" and next week's weather - while still "unsettled" - was not expected to be as wet or windy as in recent days.
In other developments:
A pensioner thought to have been electrocuted while trying to move a fallen tree which had brought down power cables has been named as Roger Hayward from Bremhill, Wiltshire
David Cameron has told councils in flood-hit areas not to charge for sandbags, after two authorities confirmed they were doing so
People living on an unflooded street in Surrey have claimed that their homes will be sacrificed to save those of their neighbours
Two pumps from the Netherlands have started work on the Somerset Levels - and 11 more will start work soon
A roof panel has been blown off a school by high winds in Stoke-on-Trent causing damage to nearby houses
Flooding victims are being urged to seek financial help, with banks and councils among those offering to waive or delay some bills
The Ministry of Defence said more than 2,000 military personnel were helping flood relief efforts, with 1,000 more "at a state of high readiness to assist if requested"
The Royal Air Force launched a Tornado jet from RAF Marham, Norfolk, to take high-resolution pictures of flood-hit parts of the Thames Valley
The government will conduct a series of reviews into the UK's readiness to cope with future flood and storm emergencies, the BBC News Channel's chief political correspondent Norman Smith said
Deputy Prime Minister Nick Clegg rejected calls for cash to be diverted from the UK's £11bn foreign aid budget to help those affected
Work is ongoing to clear debris, fallen trees and other damage caused by 100mph winds that battered Wales
The River Severn has reached record levels in Worcester
UK storms and floods
5,800
homes flooded since December
130,000
homes lost power overnight Wednesday
112mph wind gusts recorded

319mm rain fallen in Thames Valley since mid-December

Wettest January since 1776
The Energy Networks Association said 26,410 UK properties remain without electricity following Wednesday's hurricane-force winds.
Spokesman Tim Field said: "The pylons and the wires themselves are very resilient to strong winds.
Travel
Check if this is affecting your journey
"It is other airborne objects and debris - like uprooted trees - that cannot hold on in those sorts of 100mph winds. It is these things that are causing power lines to come down," he said.
Engineers were still working to restore power to customers who were still without it, he added.
Seventeen severe flood warnings are currently in force for parts of Berkshire, Surrey, Somerset and Gloucestershire.
Some parts of the Somerset Levels have been flooded for several weeks, while areas near the Thames in Berkshire and Surrey have seen major flooding in recent days.
The latest severe warning was for the River Severn at Alney Island, Gloucester.
The Environment Agency has also issued more than 300 less serious flood warnings and alerts, mostly in southern England and the Midlands.
Train services in parts of the UK are cancelled and some roads are closed.
It comes after parts of the transport network struggled to cope during Wednesday's severe weather.
Travel problems include the following:
Are you in the affected areas? Have you been affected by the flooding? Email us at haveyoursay@bbc.co.uk.