Will women be the saviours of the High Street?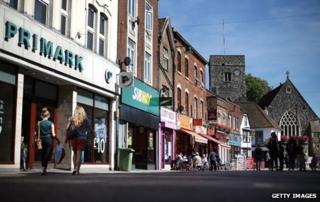 Analysis of thousands of shops and stores hints at a dramatic change in the character of Britain's commercial centres, with female traders now matching their male counterparts.
Among High Street outlets that launched since the economic downturn in 2008, 47% are led by a woman, according to BBC analysis of figures from the Federation of Small Businesses (FSB).
The figure rises to half (50%) for those that have opened their doors in the last two years, according to the most recent survey data.
Less than a quarter (24%) of High Street businesses that set up over 20 years ago have a woman at the helm.
"It is true that many more women are getting into business, joining the entrepreneurial ranks," says Liesl Smith from the FSB. "There can be absolutely no doubt that we are seeing a big increase in the numbers of women running services for women on the High Street, and that must be a good thing."
The FSB surveys tens of thousands of small businesses each year, including the firms that ply their trade on a typical High Street: retail outlets, services such as hairdressers and dry-cleaners, cafes, bars and restaurants.
BBC analysis of those categories has revealed an increasing number owned by female entrepreneurs.
Among businesses operating for more than 20 years the proportion with female ownership is just 24%. For 10-20 year-old firms the figure is 34%. These figures exclude businesses which are jointly run by men and women.
The big change, however, has occurred in the five years since the financial crisis led to many established High Street traders going under. According to the FSB figures, almost half the businesses that took their place are run by women, and the trend appears to be accelerating.
The market town of Helmsley on the edge of the North York moors is a case in point. There have been shopkeepers plying their trade in the town since before Roman times but now, almost certainly for the first time in its long history, most of the traders are women.
"I have run my business here for 30 years and I have noticed a huge change," says Mandy Silk from the Viva Hair salon in Helmsley. "Within this new development of shops where I now work, well over half are owned and run by women."
The BBC invited women shopkeepers to assemble around the monument in Helmsley's market square. More than 50 turned up with a further dozen others unable to make the group photo.
"We hadn't realised just how many women were running businesses in the town," admits Carolyn Frank, boss of a local jeweller.
Locals estimate that at least two thirds of stores in the town have a female owner. "I think it is down to a growing self-confidence among women that they can make a success of it. They see other women doing it and think 'why not?'"
In Helmsley there are some women traders who have been operating in the town for decades, but many more who have started up in the last few years. Some said the trigger was a failed marriage or the children leaving home, others that it was the desire to be their own boss or just a long-held ambition to run that sweet shop, traditional bakery or little tea-shop.
The FSB data shows that women opening High Street businesses tend to be better educated than their male counterparts - a significantly higher proportion have a degree. And, on average, they borrow less to set up their company than men - £18,700 compared with £28,800.
Perhaps the biggest driver for the move towards women shopkeepers and traders has been the expansion of online shopping. Traditional stores selling basic commodities have struggled to compete and many have gone out of business, including some big chains.
In their place have opened outlets that offer high levels of customer service, experiences that are often impossible to provide on the Internet. The past few years has seen an explosion in the number of nail bars, beauty salons and hairdressers on the High Street - businesses often run by women principally for women.
Certainly, this fits with Helmsley's business model as a destination for a shopping-based day out. Typically, women will arrive in the town, have a cup of coffee, get their nails done, do a bit of clothes shopping, take lunch somewhere, wander round a few boutiques, have their hair done before heading to one of the town's many cafes and tea shops.
"I don't just come for the shopping," one woman explained. "I come for the whole experience."
It may be one of Britain's most ancient market towns, but Helmsley could be a model for the future success of the High Street: a future based on service; a future based on women.