UK storms: Homes left without power and travel disrupted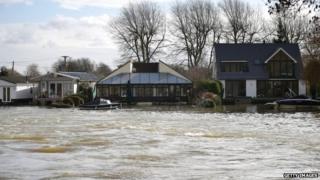 Tens of thousands of homes are without power and there is renewed travel disruption after hurricane-force winds battered the UK on Wednesday.
There was some respite on Thursday but forecasters warn that an incoming storm from the Atlantic could be even worse than Wednesday's severe weather.
Sixteen severe flood warnings remain for Berkshire, Surrey and Somerset - all already hit by severe flooding.
Train services in parts of the UK are cancelled and some roads are closed.
It comes after parts of the transport network struggled to cope during Wednesday's severe weather, which closed roads and caused delays and cancellations to rail services.
In the Commons, Transport Secretary Patrick McLoughlin said £61m would be spent to help repair the damage - but Labour said at least £118m was needed for rail repairs alone.
UK storms and floods
5,800
homes flooded since December
130,000
homes lost power overnight Wednesday
112mph wind gusts recorded

319mm rain fallen in Thames Valley since mid-December

Wettest January since 1776
In other developments:
Power out
Travel
Check if this is affecting your journey
Gusts of up to 112mph were recorded on Wednesday, with Wales bearing the brunt of the hurricane-force winds, but a rare "red warning" for wind is no longer in place.
The Energy Networks Association, representing UK energy companies, said about 80,000 homes and businesses remained without electricity.
The organisation's spokesman, Tim Field, said 60,000 were without power across Wales, while the remainder were spread across northern and south-west England and the West Midlands.
He said engineers had restored power to 145,000 customers since the storms hit on Wednesday, with 68,000 restored overnight.
"The pylons and the wires themselves are very resilient to strong winds. It is other airborne objects and debris - like uprooted trees - that cannot hold on in those sorts of 100mph winds. It is these things that are causing power lines to come down," he said.
Engineers will work throughout the day to try to restore power by this evening to those customers still without, he added.
Mark Bradshaw, of East Ilsley, Berkshire, said he had experienced three power cuts in 12 hours. "With a seven-week-old baby, we are really worried that we cannot heat or sterilise her bottles as we have no gas," he said.
Travel problems include the following:
Hundreds of passengers on an East Coast main line train from Kings Cross to Edinburgh spent several hours stranded in north Yorkshire on Wednesday night after it lost power in the high winds.
Sophie Cunningham was on another train which was stuck in the area for five hours and said emergency heating and lighting lasted for just 30 minutes.
She described the situation as "grim", saying it was "ice cold" and "like standing on the side of the track without the window".
The Met Office has issued various yellow "be aware" rain, wind, ice and snow warnings for many parts of the UK on Thursday.
And BBC Weather's John Hammond warned the incoming storm from the Atlantic on Friday will be "every bit as intense, if not more" than Wednesday's.
"It looks like being the wettest winter on record and the groundwater has got nowhere to go. The ground is like a sponge, the sponge is full to overflowing. What we don't need is more rain. [But] what we're going to get is another storm."
Snow expected
Forecasters are also warning of the possibility of significant snowfall in Northern Ireland, southern Scotland and northern England on Friday.
As well as 16 severe flood warnings, the Environment Agency has also issued about 360 less serious flood warnings and alerts, mostly in southern England and the Midlands.
Hundreds of members of the armed forces are continuing to help those affected by the flooding and 2,000 remain ready to help.
Environment Agency programme director Toby Willison said many rivers in southern England were at their highest recorded levels.
"This is an exceptional event, it was the highest rainfall in January since 1776 and we think it is likely December, January and February will be the highest for 250 years," he added.