RAF planes 'grounded' after 'in-flight issue'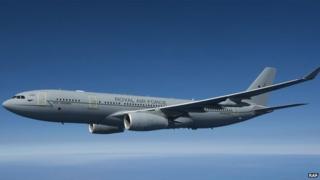 The RAF has "grounded" its fleet of military Voyager transport planes following, what the Ministry of Defence calls an "in-flight issue" .
The BBC has been told a Voyager carrying British troops back to Afghanistan dropped a few thousand feet while in Turkish airspace.
As a precaution the pilot diverted the plane to Incirlik - a US military base in southern Turkey.
About 200 military personnel were on board.
'Paramount concern'
A few passengers suffered minor injuries when the plane suddenly lost altitude last Sunday.
A Ministry of Defence (MoD) spokesman said: "The safety of all our aircrews and passengers is our paramount concern, therefore it's been decided to temporarily pause military registered Voyager aircraft flying while a full investigation is completed."
The Voyager only came into service with the RAF last year.
A total of 14 of the planes are being bought for military use under a Private Finance Initiative (PFI) contract that is costing more than £10bn.
The MoD has replaced the RAF's VC-10 and Tristar planes both as a transport plane, and as an air-to-air refuelling tanker.
The Voyager is a modified Airbus A330, and is now the largest aircraft in service with the RAF.
Only those Voyagers fitted with military Defensive Aid Suites or air-to-air refuelling have been affected.
So far the MoD has not given a figure of the number of planes affected, but A330s without the military fit are still being used.
An MoD spokesman said flights would resume as soon as possible, but only "when we are confident it is safe to do so".
It is understood that there are now some delays in flying military personnel to and from Afghanistan.
Those troops returning to the UK for rest and recuperation will be given priority.