Armed forces veterans: Call for more help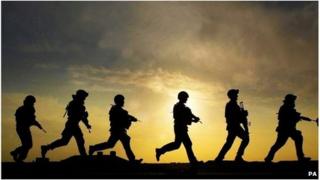 More needs to be done to support those returning to civilian life after a short career in the armed forces, a report is expected to say.
David Cameron appointed former Tory deputy chairman Lord Ashcroft to review veterans' plight after concerns that many were being discriminated against.
The BBC understands Tuesday's report will say it is a misconception veterans have a range of social problems.
Last month, a review into why veterans turn to crime was announced.
Recruitment problem
In his report, Lord Ashcroft is expected to describe the armed forces as effectively the biggest and best apprenticeship scheme in the country.
He will say most of those who leave the military manage to fit back into civilian life successfully.
But he does highlight a widely held view that many find it hard to adapt and end up homeless, in prison or suffering from mental health problems.
The report says that misconception can damage veterans' prospects as well as the military's own efforts to recruit and retain personnel.
The 200-page report will make more than 50 recommendations.
They include doing more to help those who leave the forces after four years or less.
Evidence suggests that is the group most likely to find it hard to get work and to make the transition from uniformed life.
'Difficult transition'
Announcing a new review in January, Justice Secretary Chris Grayling said that, after leaving the armed forces, "the vast majority of veterans continue to make a hugely positive contribution to our country.
"But for a few the transition to civilian life isn't always straightforward, and some end up in the criminal justice system," he added.
He said the review, which will be headed by Conservative MP Rory Stewart, would "take specific account of their needs and experiences and make sure that they get the right rehabilitation to get their lives back together again".
Ministry of Defence (MoD) figures suggest that former service personnel make up about 3.5% of the prison population.
The latest figures, from an MoD study in 2010, also indicate that a similar proportion of veterans are on licence as are in prison.
The review will see how support could be improved for veterans given custodial or community sentences.