UK floods: Environment Agency board backs chairman Lord Smith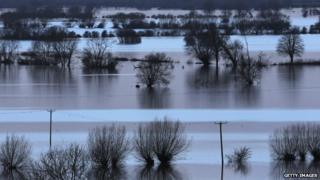 The board members of the Environment Agency have given their full backing to embattled chairman Lord Smith.
The prime minister, the chancellor and stand-in floods minister Eric Pickles all declined to offer support to Lord Smith on Monday.
But his colleagues on the agency's board have told employees in a letter they had been consistently impressed by the work of staff - and management.
They said the chairman had their full support.
'Deeply concerned'
The tone of David Cameron's remarks on flooding suggested he would consider trying to oust Lord Smith when the current crisis had calmed.
But it now looks as though the prime minister will also have to fight the board if he wishes to sink their chairman as the floods subside.
This was made clear in a letter to staff complaining about the criticism the agency has suffered from politicians and parts of the media.
It reads: "Throughout the many incidents of recent years the agency's board has been consistently impressed by the professionalism, commitment and resilience of staff, managers and directors - and never more so than in last two months.
"So we have been deeply concerned about the recent campaign of criticism, particularly around the handling of flooding in Somerset.
"We think this criticism is ill-informed and unfair - and we particularly deplore the personal nature of some of it.
"We fear it can only have the effect of undermining public confidence in the agency, our chairman - whom we fully support - our managers and our staff, and belittling the work that you do.
"This is wrong and very unhelpful at a time when we are all working hard to minimise the impact of extreme weather.
"We want to put our views on record to you and publicly. We also want to say a big thank you for your fantastic work."
'Great sympathy'
In a separate letter to a newspaper, the board reiterated the successes of the current floods campaign.
"We have great sympathy for all of the victims of flooding (but)… while 5,000 properties have been flooded, the defences put in place across the country by the Environment Agency and its partners have protected over 1.3 million others."
Lord Smith himself upped the stakes in the row with government on Monday by insisting that Treasury rules forbade the agency spending more to drain the Somerset Levels.
The Treasury has declined to comment.
But Lord Smith is still attracting criticism as well as support.
Appearing on Radio 4's Today Programme, he said it wasn't the agency's policy to flood areas of farmland on the Somerset Levels in order to protect property elsewhere - yet the local strategy makes it clear that it was the agency's policy, in line with priorities laid down by the government.
Follow Roger on Twitter @rharrabin