DJ Dave Lee Travis trial: Jury considers verdicts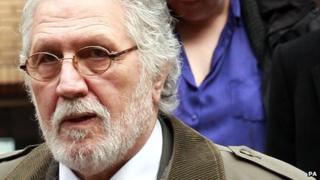 Jurors in the trial of veteran DJ Dave Lee Travis have retired to consider their verdicts.
He is accused of indecently assaulting 10 women and sexually assaulting another in incidents dating back to 1976, at the height of his fame.
Giving evidence, he told the jury of eight women and four men the claims against him were "nonsensical" and said he was "cuddly", not "predatory".
Mr Travis denies 13 counts of indecent assault and one of sexual assault.
Summing up on Friday, Judge Anthony Leonard told jurors not to be influenced by other celebrity cases, particularly the acquittal of Coronation Street star William Roache.
"You are trying allegations of historic sexual assaults against someone who, as I say, has been in the public eye for many years," the judge told the jury at Southwark Crown Court.
"The fact that the defendant is a well-known personality does not change the rules of the way that you try this case."
Mr Travis, from Buckinghamshire, is being tried under his real name, David Patrick Griffin.
The trial has lasted almost four weeks.