Navy needs to be 'credible' says Admiral Sir George Zambellas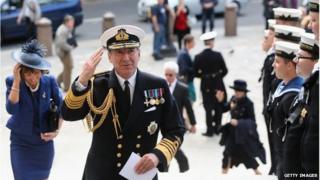 The UK risks falling out of the "first division" of global military powers unless there is extra investment, the head of the Royal Navy has warned.
The remarks were made by the First Sea Lord, Admiral Sir George Zambellas.
He urged the government to commit to bringing into service two aircraft carriers currently being built and to renewing Britain's nuclear deterrent.
A spokesman said the defence secretary was committed to the nuclear deterrent and wanted both carriers in service.
Admiral Zambellas's comments were reported in the Times and come ahead of the government's defence review next year.
Two aircraft carriers are under construction in Scotland, with the first, HMS Queen Elizabeth, due to be launched in July, although it will not be in full military operation until 2020.
The cost of two new aircraft carriers being built for the Royal Navy has risen to £6.2bn.
Admiral Zambellas pleaded for a "credible" navy, and called for a government commitment to operating both aircraft carriers.
What will happen to the second carrier - HMS Prince of Wales - expected to cost about £3bn, will be decided during the defence review after the next general election.
He said there needed to be a mix of warships, submarines and fighter jets, and to "deliver our [nuclear] deterrent and to deliver proper carriers".
'Re-defined'
He said: "Make the Royal Navy 'un-credible', and we cease to be a first division player.
"Our responsibility to the navy we command and lead, our responsibility to defence, and our responsibility to the nation we serve, is to fight to deliver a credible navy.
"Our strategic direction will be re-defined as our nation emerges from recession, blinking into the sunlight of global opportunity.
"We must argue relentlessly that if we want to be a credible nation, then we need a credible navy."
The Conservative Party is committed to a like-for-like replacement for the existing four-boat nuclear submarine fleet needed to maintain round-the-clock patrols - at an estimated cost of £20bn - if it wins the next general election.
A Ministry of Defence spokesman said: "The defence secretary has made clear that he views the nuclear deterrent as the ultimate safeguard of the UK's national security and that the government will progress with its commitment to a like-for-like replacement.
"A decision on the future of the second Queen Elizabeth class aircraft carrier will be made as part of the next strategic defence and security review but the defence secretary has already made clear that he supports the idea of it entering service with the Royal Navy."