Ed Miliband pledges more parent and patient power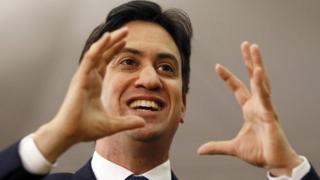 Ed Miliband has said a future Labour government would create a "new culture" for public services in England, handing more power to parents and patients.
The Labour leader wants to give parents the power to "call in intervention" at schools they think are failing.
This could result in the head teachers responsible facing the sack.
In a speech later, he will sketch out a series of reforms aiming to tackle what he calls "unaccountable" state power and "unresponsive" public services.
But the Conservatives said his claims to support parent power would "ring hollow", citing Labour's opposition to the coalition's flagship free schools policy.
'Radical reshaping'
Mr Miliband will acknowledge in his speech that further spending cuts are still needed, saying: "That is why it is all the more necessary to get every pound of value out of services."
According to extracts of his speech, to be delivered in London, he will say: "I get as many people coming to me frustrated by the unresponsive state as the untamed market.
"And the causes of the frustrations are often the same in the private and public sector: unaccountable power with the individual feeling left powerless to act."
Using education as an example, he will say: "Having promised to share power, this government has actually centralised power in Whitehall and is attempting to run thousands of schools from there."
Mr Miliband will say that parents need to be empowered.
"They should not have to wait for somebody in Whitehall to intervene if they have serious concerns about how their school is doing, whether it is a free school, academy or local authority school. But too often they do," he will explain.
"In all schools, there should be a parental right to 'call in' intervention. This would happen when a significant number of parents come together and call for immediate action on standards."
Former Labour Education Secretary David Blunkett is leading a review on how to decentralise decision-making over schools, and is due to confirm the details of what these interventions might entail when he reports towards the end of March.
He is understood to be considering the creation of specialist improvement teams, with powers to order schools to collaborate more and even to sack failing headteachers.
For schools rated "good" by Ofsted, an improvement team could be called in if a majority of parents of pupils at the school agree it is needed. For schools rated "requires improvement", the bar is expected to be set lower, but has not yet been confirmed.
Mr Miliband will also say all NHS patients should be able to access their health records "swiftly and effectively" and commit his party to a "radical reshaping of services so that local services can come together and make the decisions that matter to their own communities".
In October, shadow education secretary Tristram Hunt pledged that a future Labour government would support "parent-led schools".
But he remains critical of Education Secretary Michael Gove's free schools policy, under which parents and other groups are able to establish schools operating outside local authority control.
The programme was "damaging our education system", he told the Sunday Times.
'Serco/G4S state'
Mr Miliband is expected to expand on his party's opposition to the policy in the speech.
"When this government sets up free schools in places where there are already surplus places supposedly to create more choice, it does so by taking money away from other kids in real need of a school place," he will say. "And we have a looming school places crisis as a result."
The opposition leader will argue there are wider lessons to be drawn. "The promised choice often isn't real," he will say.
"Replacing one large public sector bureaucracy with a large private sector bureaucracy doesn't necessarily make the system less frustrating.
"Once a government contract for the Work Programme is signed or a train franchise is confirmed, people themselves have no choice over which provider to use because the choice has already been made by the government.
"It turns out that the Serco/G4S state can be as flawed as the centralized state."
But a Conservative spokesman said: "Labour's claims to support parent power will ring hollow - only yesterday they called for 'an immediate halt' to the free schools programme.
"Free schools give parents more power than ever before over their children's education but they are under threat from Labour.
"Our long-term economic plan is delivering world class schools and ensuring young people have the skills they need to secure a good job, an apprenticeship or a place at university. Labour would put this at risk."