UK floods: Environment Agency 'used as political football'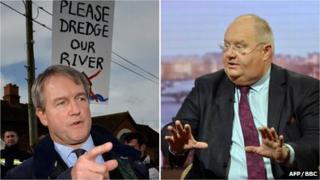 Environment Agency chairman Lord Smith says his organisation has become a "political football" for a media story on flooding.
He made his comments after Eric Pickles, the stand-in floods minister, accused the agency of being driven by political correctness.
Mr Pickles told the BBC the agency had given bad advice over flooding and tried to divide town and country over flood funding.
Lord Smith said the real problem was government budget cuts and "value for money" rules.
In an article for the Guardian, he wrote: "In a lifetime in public life, I've never seen the same sort of storm of background briefing, personal sniping and media frenzy getting in the way of decent people doing a valiant job trying to cope with unprecedented natural forces."
He said the agency had acknowledged the local view on the Somerset Levels that dredging was needed and had allocated £400,000 for the job - "the maximum amount the Treasury rules allowed us to do".
The BBC has also been told that the environment department Defra is furious at Mr Pickles' comments, made after he took over as senior minister responsible for anti-flood policy while Environment Secretary Owen Paterson underwent eye surgery.
I understand Mr Paterson has complained "in the strongest possible terms" to the prime minister about what he calls Mr Pickles' "grandstanding".
Downing Street refused to say whether any complaint had been transmitted, but said the prime minister was happy with the way Mr Pickles had done his job.
A Defra spokeswoman said the Environment Agency was doing a "great job" working with other agencies to deal with the floods.
There is also anger among water management professionals over Mr Pickles' remarks - especially the suggestion that Lord Smith had tried to set town against country over flood funding.
A spokesman for the water engineers' professional body CIWEM said Mr Pickles was talking "absolute tosh".
CIWEM said the Environment Agency had a statutory responsibility to protect life before property and property before farmland - this was not Lord Smith's choice.
The spokesman said the real problem was that the government had failed to back the agency's spending plans to combat the effects of climate change, and had left the agency short of half a billion pounds for its long-term flood plans.
Richard Ashley, professor of water management at Sheffield University, said Mr Pickles' comments were "ignorant and out of order".
"It absolutely beggars belief," he told BBC News. "He hasn't got a clue what he's talking about."