Soldier 'tried to take own life owing to bullying in Army'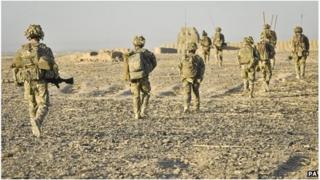 A former soldier has said he tried to commit suicide several times after the Army ignored his claims of bullying.
Joseph McCabe said that - far from stopping the alleged bullying - some non-commissioned officers joined in.
The former private told BBC Radio 4's Today programme he was also stabbed by a fellow soldier.
He is taking legal action against the Ministry of Defence, which did not comment on the case but said it had a "zero-tolerance" policy on bullying.
Speaking publicly for the first time, Mr McCabe said the bullying centred on his stutter, which some other soldiers mimicked.
Colleagues 'laughing'
He said the bullying started soon after he was given his first posting, which was in Germany in 2007.
He said: "I received death threats.
"I got threatened with a knife to my throat while I was still deployed out in Iraq. I was told 'you have got until the end of the tour to kill yourself'.
"I put in a number of transfer requests, I tried everything I could to get away from the regiment. But they were denied.
"I still have nightmares, I still have flashbacks. If I could I would just lock myself up in box and hide away. But I have forced myself to take up a new career and move on with my life."
Mr McCabe also said he received written death threats, but after he handed them to an NCO he saw the man showing them to others and laughing.
After being stabbed by a colleague he tried to kill himself several times, he said.
The Ministry of Defence told the BBC that it could not comment on individual cases, but the armed forces had a zero-tolerance policy towards bullying and other abuse.
It said all allegations would be investigated, and appropriate action taken.