Mother facing Dubai jail calls on William Hague for help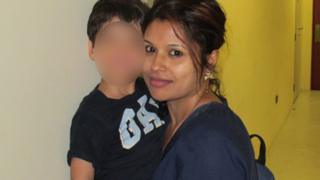 A British mother, charged with kidnapping her three-year-old son in Dubai, has asked for help from Foreign Secretary William Hague.
Afsana Lachaux, 46, from London, is facing kidnap charges after failing to attend an access meeting between her ex-husband and son Louis.
Mrs Lachaux, who is due in court on Tuesday, claims her ex-husband threatened her, which he denies.
The Foreign Office says it cannot intervene in the judicial proceedings.
The former civil servant, from Poplar, east London, moved to Dubai shortly after getting married to a French currency dealer in 2010.
Mrs Lachaux alleges her husband turned violent and she left him, taking Louis with her.
Defamation case
He denies all domestic abuse allegations and has since filed a defamation case against his ex-wife, in response to the domestic abuse allegations.
She tried to return to the UK but is currently under a travel ban and her ex-husband has asked the authorities in the United Arab Emirates to confiscate her passport.
Although she was granted custody of Louis, he is now in the sole custody of his father.
"Because I didn't go to that one visit, which is a breach of the court order, I'm actually being charged with kidnapping. I don't understand how that becomes kidnapping and no-one's been able to explain that to me," said Mrs Lachaux, who is of Bangladeshi origin.
Her son from a previous marriage, Rabbhi Yahiya, 26, has written to officials at the Foreign Office in London and has also set up a website.
"I'm very frightened and anxious at the moment… Their response and reaction in dealing with this long, drawn-out ordeal has been, in my opinion, quite shameful. I think that the Foreign Office and the ambassador can do more for my mother in terms of reviewing her case… and just act to protect the rights of a British citizen," he said.
Witnesses
Mrs Lachaux has been asked to provide three witnesses in court on Tuesday supporting her domestic violence claim against her ex-husband, in accordance with the UAE's sharia law.
"When you're in a situation one-on-one and your former partner or someone is abusing you, there aren't hundreds of people standing by and watching in the home… so how do you get witnesses?" says Mrs Lachaux.
Rori Donaghy from the London-based Emirates Centre for Human Rights has been helping Mrs Lachaux's family in London.
He said: "We have tried to expose the case in the media in order to push the Emirati authorities to do something about Afsana's detainment… but they have been unresponsive as has been the case in other instances of domestic violence and violence against women.
"Emirati authorities need to do more than just act in this case, they need to change the law so that victims of domestic abuse are afforded protection by the law rather than turned into criminals by their abusers," he added.
A Foreign Office spokesman said: "We are aware that Mrs Lachaux is distressed at being separated from her son.
"Consular staff have been providing assistance to Mrs Lachaux since 2011 including attending court hearings with her. Consular officials have approached the UAE authorities about this case and we will continue to work closely with them.
"However we cannot interfere in the judicial process of another country. We must respect their systems just as we expect them to respect the UK's laws and legal processes.
"We will continue to provide consular assistance to Mrs Lachaux and her family."