Floods: The battle to save lives and livelihoods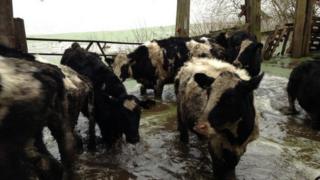 The floodwaters are claiming the village of Moorland and the surrounding farmland.
Some 1,000 cattle graze this part of the Somerset Levels, along with other livestock. If they aren't moved, they will drown.
John Lang is racing to help friends move their herd to higher ground - from Moorland to North Curry. He drives his tractor as fast as he can, but the roads are clogged by Environment Agency vehicles and personnel trying to shore up the village defences.
"It's coming in faster than anyone envisaged," John says. "My mum has been here 71 years and she's never seen anything like it."
On the Hutchings' farm, the water has already reached in to the cattle shed. Calves jostle in the corner, trying to stay away from the rising tide.
Mary Hutchings and her husband have farmed this land for decades.
"It's a nightmare," she says. "It's rising continuously. We have to move everything out. We have everything from cows, up to heifers calving in."
How is she coping?
"Not very well. It shouldn't be like this."
The thick dark water is now thigh-deep in places. Brian Hutchings wades through it to open the gate. The calves are petrified.
"We are moving out the cattle to wherever we can get someone to take them. The water is rising fast. We haven't placed all of them," he says.
"They are going to different places. No-one can take all of them. It's very upsetting. It's not just moving them; we have to get feed and bedding to them.
"It's a nightmare. And it's myself and my wife and it takes a lot of doing, you know? After moving them we have to feed and get about and look after them. I don't know how we're going to cope."
The frightened calves run in to the trailer and out again. It takes three attempts and lots of encouragement to get them in.
The gate is slammed shut. Then they see that one calf is left in the far corner of the shed.
It will have to wait.