Met chief apology over 'Plebgate' PC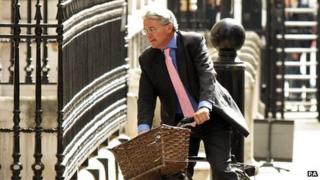 Metropolitan Police chief Sir Bernard Hogan-Howe has met MP Andrew Mitchell to apologise for one of his officers' roles in the "Plebgate" affair.
PC Keith Wallis is due to be sentenced on Thursday after admitting to falsely claiming to have witnessed a 2012 row involving the former chief whip.
Mr Mitchell quit the government over the altercation in Downing Street.
A number of other police officers are facing disciplinary proceedings in the relation to the incident.
PC Wallis pleaded guilty to committing misconduct in a public office last month, the first officer to admit to wrongdoing in relation to the incident.
"The commissioner said when PC Wallis was convicted in a public office that he would apologise to Mr Mitchell in person," the Met said in a statement.
"He attended a private meeting this afternoon to deliver that apology".
The BBC's chief correspondent Ross Hawkins said the apology, made in person in Parliament, did not come as a surprise but was unlikely to "draw a line" under the 18-month saga.
Mr Mitchell has accused another officer on duty in Downing Street at the time of "making up" claims that he called the police "plebs" and swore at them after being told he could not take his bike through the main gates.
The MP is suing the Sun newspaper, which first reported the Downing Street incident, for libel while the officer concerned, PC Toby Rowland, has also said he intends to sue Mr Mitchell.