Police win forced retirement tribunal claim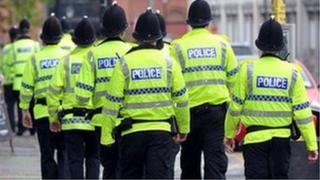 Five police forces could face paying out millions of pounds after officers who were forced to retire after 30 years won an age discrimination claim.
Nottinghamshire, West Midlands, Devon and Cornwall, North Wales and South Wales officers were among hundreds made to retire under regulation A19.
Nottinghamshire Police Federation secretary Mick Taylor said their case had been "vindicated".
The forces have 42 days to appeal against the decision.
The London Central Employment Tribunal made the ruling on behalf of 250 officers who were made to retire under A19, which said those below chief officer rank could be required to retire after 30 years "in the general interests of efficiency".
'Financial challenges'
Mr Taylor said: "Our legal advisor will be writing to each former officer involved in the case.
"At the same time we are acutely aware that during a period of severe budgetary cuts, any prospective or potential financial burden on the force is no cause for celebration, particularly at a time when many colleagues will be worrying about job security.
"We shall make every effort in assisting the force to the best of our ability, to manage the continuing financial challenges over the coming months and years."
Last year, the High Court ruled A19 was lawful.
But the ruling was criticised by members of the Police Superintendents' Association for England and Wales (PSAEW), which argued that the retiring of older officers would not result in major savings.
'No alternative'
The government said in October 2010 it was cutting police funds following a spending review.
Nottinghamshire Chief Constable Chris Eyre said the force was "actively considering" an appeal.
He said: "It was necessary for the police authority to consider the use of regulation A19 as a result of the wide-ranging austerity measures affecting public services.
"This was a very difficult decision for the authority and one which was taken after extensive consultation with officers who had 30 years' pensionable service and the relevant staff associations.
"Had there been other viable alternatives the police authority would not have made the difficult decision to implement A19.