UK storms: Why so wet and windy?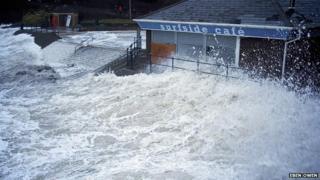 If you think it's been unusually wet and windy, you're right. And if you've had enough of it, you're not alone.
How bad is this weather?
Parts of England have had their wettest January in more than 100 years. And it's been blowy - the Met Office says December was arguably the stormiest month since January 1993. Jacob Cope, forecaster at the BBC Weather Centre, says the winter storms have been no more intense than others of recent years - but we have had several big ones in quick succession. And that looks set to continue - with another deep depression approaching on Saturday.
This winter's extreme storms (Met Office)
Why is it happening?
The UK's weather is dominated by the jet stream. This narrow band of fast-flowing air high in the atmosphere is driven by temperature differences between cold air to the north and warm air to the south. This winter that contrast has been particularly large, creating a strong jet stream driving across the Atlantic.
Variations in the jet stream - such as curvature or changes in speed - can drive the development of storms. The faster the jet stream, the greater force behind these variations - and that's meant a conveyor belt of storms coming to the UK.
Is the jet stream misbehaving?
Usually the jet stream would oscillate in large waves as it circles the globe at our latitude, allowing for varied weather patterns throughout a season and bringing us our typically changeable British weather. Occasionally the jet stream will stagnate into a particular pattern - in this case strong and straight - which leads to the weather maintaining a certain pattern - in this case stormy.
Is it just the UK getting wet?
The UK is especially sensitive to Atlantic weather systems driven in by the jet stream, being an island positioned between the Atlantic Ocean and the large land mass of continental Europe. It is under the influence of five different air masses, each with its own character. This makes its weather distinctly variable.
But this hasn't just been an active time for weather in the UK. Much of Europe has been feeling the effects of Atlantic storms too. Recently there has been flooding in France, large snowfall in Germany and Slovenia and large waves have been affecting Portugal and Spain too.
Surfer catches huge Portuguese wave
Is there an end in sight?
Looking ahead, Jacob Cope says we have this weekend's storm to contend with first, but even after that this weather pattern shows no sign of easing up.
Longer range forecasts deal with trends rather than detail but it looks as though the strong jet stream is going to persist, which is likely to bring further low pressure systems to the UK.
As always you can keep up to date with the forecast through BBC television and radio broadcasts and on the BBC weather website.