Dave Lee Travis trial: DJ was 'touchy-feely in a nice sense'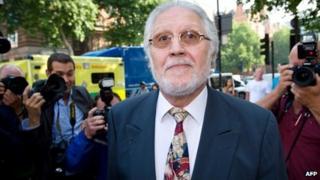 DJ Dave Lee Travis was "touchy-feely" at work but "in a nice sense", a former BBC colleague has told a court.
Philip Hughes, who worked as a technical operator at Radio 1, said Mr Travis was a fun and "larger-than-life" character with a good sense of humour.
Mr Hughes told Southwark Crown Court he could not recall the DJ engaging in any inappropriate conduct at work.
Mr Travis, 68, from Buckinghamshire, denies 13 counts of indecent assault and one count of sexual assault.
Sugar lump fights
Mr Hughes told jurors that Dave Lee Travis, who is being tried under his real name, David Patrick Griffin, was "part of the furniture" at Radio 1.
He said Mr Travis was "the sort of person who would give a bear hug in the corridor. Blokes as well as anyone working on the programme."
Mr Hughes, who worked at the BBC between 1973 and 1980, said he often "instigated" pranks at the station with Mr Travis and DJ Noel Edmonds, involving sugar lump fights and balancing cups of water on top of the studio door.
Asked if any of the pranks would have involved sexual touching between men and women, Mr Hughes replied: "No."
Mr Hughes said if his colleagues had been made aware of any sexual assault it would "probably have been talked about".
A former Radio 1 producer, David Atkey, told the court Mr Travis liked other people to join him in the studio. "Sometimes his wife would come in, sometimes his mother," he said.
"He was a very nice, warm, gentle man. He liked to hug people. He hugged me on numerous occasions."
Hand-kissing
Mr Atkey, who worked for Radio 1 between 1968 and 1988, said he had not seen any inappropriate conduct by the station's DJs during his time at the BBC but had heard "rumours" about Jimmy Savile.
He said if he had known Savile was behaving inappropriately he would have "reported him to our superiors".
The court has previously heard an allegation that Mr Travis touched the breasts of a Radio 4 announcer during a live broadcast.
Mr Atkey said it was "incredibly unlikely" that Mr Travis would have disrupted a Radio 4 broadcast. He said the consequences would have been "very severe, if not a sacking".
"Kenny Everett was sacked for saying something inappropriate on air," he said. "I don't think he (Mr Travis) would be exempt from being sacked."
Another witness, Jon Kutner, a former BBC messenger, said Mr Travis would sometimes kiss the hand of women he was introduced to. But he said there was "never anything untoward".
Simon Marlow, who was a presenter at Classic Gold with Mr Travis in the early 2000s, said he had known the DJ for about 20 years and found the allegations "ridiculous".
"He is a very generous, caring and loving man," he said.
"He has been a fantastic friend to me. He is just a really nice man."
The trial continues.