Dave Lee Travis: Chuckle Brother Paul Elliott says claims a 'surprise'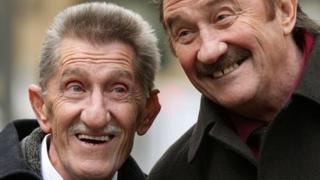 One of the Chuckle Brothers says claims that Dave Lee Travis indecently assaulted a woman at the pantomime they appeared in were a "complete surprise".
Entertainers Paul and Barry Elliott starred with the DJ in Aladdin in the 1990s, Southwark Crown Court heard.
Paul Elliott, 66, told the court he had no knowledge of the alleged incident involving a female stagehand or any other allegations about Mr Travis.
Mr Travis denies 13 counts of indecent assault and one of sexual assault.
Asked if he could recall any incidents, Mr Elliott replied: "No, sorry, I don't. As I say it was a complete surprise."
Mr Elliott, who starred with his brother Barry in the BBC children's television series Chucklevision, said Mr Travis had been "very professional" during the pantomime.
'Great chap'
He said he had been unaware of any arrangements to chaperone female staff members in the presence of Mr Travis, who played "evil uncle" Abanazar in the show.
"I think I would remember," he said, adding that he and his brother would have been made aware of any such policy as they had been "top of the bill".
Mr Elliott said he did not recall any particular incident when a female stagehand had left Mr Travis's dressing room.
The woman, who was 21 at the time of the alleged incident, has previously told the court her ordeal ended when one of the Chuckle Brothers walked past in a corridor.
Barry Elliott, 69, who appeared with his brother as a Chinese policeman in the pantomime, described Mr Travis as "a jolly great chap to work with".
He said: "He was fine. He was great. I mean, everybody seemed to get on."
Mr Elliott said he too had no knowledge of any policy about chaperoning women around Mr Travis. Nor did he have any memory of the DJ ever "struggling" with a young woman in his dressing room.
"I don't remember that, no," he said. "If it was something serious we probably would, but I don't remember anything like that at all."
Earlier, the court heard evidence from a female DJ who said claims that Mr Travis groped a carnival princess at a hospital radio station's launch in the 1970s were "fantasy".
'Utter nonsense'
The woman, who worked at the station in Hertfordshire, said she watched Mr Travis closely at the time of the alleged incident.
She told Southwark Crown Court that Mr Travis had been accompanied by his wife and the claims were "utter nonsense".
Stephen Vullo, defending Mr Travis, asked the witness about a claim that the former carnival princess and the DJ had become separated from a group meeting patients on hospital wards.
The witness replied: "He was with his wife the whole time. I was watching what he was doing the whole time because he was an idol to me.
"It is utter nonsense or fantasy that anything like that happened."
The alleged incident is not part of the charges against Mr Travis, 68, from Buckinghamshire, who is being tried under his real name, David Patrick Griffin.
Graham Rosen, who worked as a roadie for Mr Travis from 1977 to 1981, also defended Mr Travis, saying he had never seen any wrongdoing.
"During live shows I spent most times with Dave and I never saw anything inappropriate," he said.
He described Mr Travis as a "practical joker".
Former BBC radio producer David Tate rejected suggestions Mr Travis was a "sexual predator".
"Absolutely not," he said under questioning by Mr Vullo. "I don't recognise this description at all."
Mr Tate, who worked with Mr Travis on his Radio 1 afternoon show in the early 1980s, said he heard no complaints about the defendant or anyone else at the BBC during his 30 years with the organisation.
The one-time senior producer at Radio 1 and executive producer on the World Service described Mr Travis as a "warm, open, friendly" individual.
He said the veteran DJ, whom he first met in the late 1960s, would hug him when he visited the World Service.
"That may be inappropriate nowadays but I took that to mean he respected me," Mr Tate said.
He said he "strongly believed" any complaints of sexual assault at the BBC in the 1970s and 1980s would have been taken seriously.
The trial continues.