Lloyds Banking Group 'April share sale likely'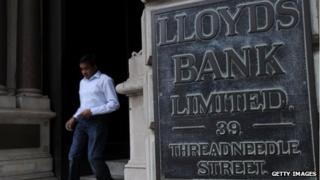 Lloyds Banking Group has confirmed it plans to return more of the government's 32.7% stake to private investors.
The news came as it made yet another hefty provision of £1.8bn for mis-selling payment protection insurance (PPI) taking the total to £10bn.
The government sold 6% of its original 39% stake to large investors last year.
The BBC's business editor, Robert Peston, says the first Lloyds sell-off is likely to be in April.
It cannot take place before the group's annual report and accounts are published in March.
Our correspondent says this year could see a two-part sale, the first aimed at professional buyers with a later offer pitched at small investors.
Holding up
This could amount to another slice of 10% of Lloyds' shares, and is likely to outstrip that of last year's £3.3bn Royal Mail flotation, when demand was many times that of the number of shares on offer.
The 6% stake in Lloyds that went to large investors raised £3.2bn alone.
Lloyds has a market value of about £57bn, so at the current share price, selling 10% would raise £5.7bn.
Lloyds Banking Group's shares fell nearly 4.3% in afternoon trading to 79.66p, however, they remain more than 56% up over the last 52-week period.
The government paid 73.6p for its stake.
It wants to return it to full private ownership by the next general election in 2015.
Dividend
Although the bank increased the amount it set aside for past misdemeanours, it also said underlying profits for 2013 would be £6.2bn - nearly double what analysts have been expecting.
The bank added that the regulator, the Prudential Regulation Authority, would now consider allowing Lloyds to resume making dividend payments, given the group's improved financial performance.
Lloyds has not paid any dividends to shareholders since 2008.
"Modest" dividend payments would probably begin in the second half of 2014, the bank said.
'Badge of shame'
Lloyds' PPI costs now total a potential £9.825bn. For all banks the bill is approaching £20bn.
But BBC business editor Robert Peston argues that despite these provisions being "an extraordinary badge of shame" for the banks, the payouts have actually helped stimulate the UK economy.
"These PPI payments have played a very big role in encouraging economic recovery," he told BBC Radio 4's Today programme.
Lloyds said it would be setting aside a further £130m relating to the sale of interest rate hedging products to small and medium-sized businesses.