Gove wants formal assessments for four and five-year-olds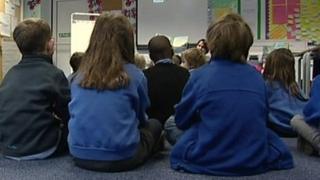 The education secretary has strongly indicated he wants to introduce formal assessments for four and five-year-olds when they enter school in England.
Michael Gove said assessing children when they entered primary school and again when they left at 11 was the best way to monitor their progress.
It would also enable the government to see which schools were making progress with disadvantaged children, he said.
The National Union of Teachers said it would be "too much too soon".
Mr Gove told the Andrew Marr Show that "anyone who's in the first year of school can be given a series of tests to see the level of cognitive development that they're at".
'Advance social justice'
He said Performance Indicators in Primary School (PIPS) tests were already widely used in the state and independent sectors.
He rejected the idea that formal assessments might be stressful for the children.
"What they will do is they provide teachers with the information they need - and the best teachers already do this - to know how to tailor teaching to students," Mr Gove said.
"But what they will also do - and we've worked with head teachers and teachers on this who've given it a wide welcome so far - is it will also enable us to see those schools that have tough and difficult intakes that may perhaps at the end of the primary phase not appear to be doing well on headline figures, but they made tremendous progress.
"What we need to do is to ensure that schools that are helping the most disadvantaged children in the most difficult areas are rewarded most generously for the work they do in order to advance social justice."
In a wide-ranging interview, issues Mr Gove discussed included:
Updated guidelines allowing teachers in England to dispense "tough but proportionate" punishments to tackle bad behaviour
His desire to lengthen the school day to provide extra-curricular activities
The importance of a school's right to punish parents who take children on holiday during term time
The general secretary of the National Union of Teachers, Christine Blower, said teachers work with parents to get a full picture of a child's development during early years education.
"Formal testing at four years old or even at five is simply too much too soon," she said.
"If the secretary of state is serious about trusting the professionalism and judgement of teachers he should listen to voices from the profession who understand how to evaluate children's progress and ensure that they develop a spirit of enquiry and love of learning.
"We should also bear in mind that in Finland children don't even begin formal schooling until the age of 7."
Shadow education secretary Tristram Hunt said Labour would "look closely" at the proposals.
"We're seeing far too many kids entering school who aren't school ready, sometimes six, nine, 12 months behind where they need to be in terms of their ability to speak, in terms of their understanding of phonics, even in terms of toilet training, so it's entirely appropriate that teachers understand the baseline of learning from which they'll be going forward with these kids."
However, he added that Labour does not want "any top-down, heavy-handed assessments", but to ensure that teachers have the capacity to understand what their pupils know "so that they can deliver the best lessons in class and work environment for them".