Samantha Lewthwaite: Whereabouts of Kenya attack suspect a mystery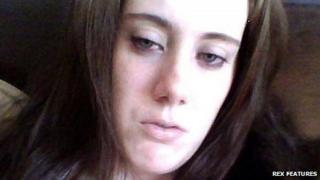 She has gone from smiling schoolgirl to one of Interpol's most wanted - linked in news reports with militant attacks.
Nicknamed the White Widow, Samantha Lewthwaite is wanted by the Kenyan authorities on charges of being "in possession of explosives and conspiracy to commit a felony" dating back to December 2011.
She was linked in some reports to the Westgate shopping centre attack in Nairobi in September in which 67 people died.
Whitehall officials urged caution about those reports and there has been no confirmation of Ms Lewthwaite's involvement, either as an attacker, organiser or fundraiser.
Somali militant group al-Shabab, which claimed responsibility for the attack, denied any women were involved.
Ms Lewthwaite, 29, a Muslim convert, is widow of Germaine Lindsay, one of the 7 July suicide bombers who killed 26 people in London in 2005.
'Average couple'
Her family moved to Aylesbury, Buckinghamshire, when she was a child because her father was in the armed forces and she attended The Grange School.
Lewthwaite and Lindsay both converted to Islam in their teens. They met over the internet.
Former mayor of Aylesbury Raj Khan knew Ms Lewthwaite when she was a girl.
In 2005, he met her and Lindsay in town. The couple had just become parents and were looking for a family house.
"I probably saw her a month or two before what happened - 7/7," said Mr Khan.
"Jermaine, her husband, came to see me in this town centre while I was doing some activities. Because I knew Samantha she came up and exchanged pleasantries.
"They were a normal, average couple. I have to feel on reflection that Samantha didn't come across as in control - it was Jermaine.
"They both were very pleasant. Samantha came across as the same person I knew - she was a follower, not a leader. She wasn't strong-headed."
Elusive figure
At the time of the bombings, Ms Lewthwaite and Lindsay were renting a house in Northern Road.
After the attacks she condemned her husband's actions.
Tweets have since appeared under her name, but it has not been confirmed that she is behind them.
In 2011 there were reported sightings of her in Mombasa, Kenya, where a police raid on another suspected militant unearthed a fake passport using Ms Lewthwaite's picture, but with the name Natalie Faye Webb.
By 2012, she was being linked in some news reports with Al-Qaeda.
'Higher purpose'
Historian Roger Griffin of Oxford Brookes University is an expert in religious fanaticism.
"I see all the signs of somebody who was searching for some sort of higher purpose in life who was given a sense of religion by her Christian background, but it wasn't satisfying to her and there was something in her that wanted to go further," said Professor Griffin.
"Now, that urge could have taken her in to Amnesty International or to some self-sacrificial role in the church, but the same urge has a dark side and it could take you into the realm of fanaticism.
"There are different degrees of obsessiveness and a terrorist is someone who's taken those feelings and turned themselves into an activist at the cost of their lives."
Tensions in Aylesbury were heightened in 2010 when the English Defence League marched through the town to protest against what it calls "militant Islam".
Could Ms Lewthwaite simply be an innocent Muslim from Aylesbury, forced to flee from prejudice?
Mr Khan said: "There's been a lot of allegations... but all that has been subsequently rubbished.
"Unless there is any evidence we have to be careful what they say and if she is involved she has to be brought to justice and held to task, like anybody else.
"I'd say to Samantha, 'If I was in your position today, I'd give yourself in'."
But there is no sign of that happening. For now, the whereabouts of Ms Lewthwaite remain a mystery.
More on Inside Out South on BBC1 at 19:30 GMT on Monday 3 February.