'Likely' Sienna Miller left Daniel Craig 'love you' message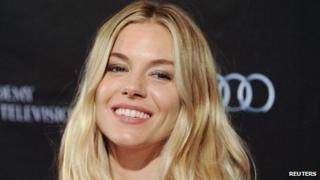 Sienna Miller has said it is "likely" she left a phone message for actor Daniel Craig that ended "I love you".
Appearing via video link, she told the hacking trial it would not have been an "important declaration of love", but was how she always ended messages to close friends and family.
Ex-News of the World reporter Dan Evans has told the court the message led to stories about the two having an affair.
Ms Miller denied having an affair, but said the pair had a "brief encounter".
Evans has claimed his then-editor Andy Coulson was present when a tape of Ms Miller's message was played, adding that Mr Coulson was aware it was from a hacked voicemail.
Mr Coulson - who went on to be Prime Minister David Cameron's communications director before stepping down in 2011 - denies conspiracy to hack phones and a charge of conspiracy to commit misconduct in a public office.
During her evidence from New Orleans in the US, Ms Miller told the court she could understand how the alleged hacked message she left for Mr Craig - in which Evans alleged she said, "Hi, it's me. I can't speak, I'm at the Groucho with Jude. I love you" - could "easily inspire a story".
However, she said she always ended messages to close family and friends with, "I love you".
Ms Miller told the court that Mr Craig was a close friend with whom she had been speaking during a difficult period in her relationship with the actor Jude Law.
Earlier in the week, Mr Law was challenged on his relationship with the News of the World and whether or not he had ever tried to directly influence stories.
In his evidence on Friday, Evans - who has already admitted conspiracy to hack phones - said that the actor's PR had spoken to the newspaper to make it appear that Ms Miller had "cheated" before it emerged that Mr Law had a fling with his children's nanny.
Ms Miller said she had never given away details or deliberately let people know where she was to court publicity.
She said that a photo of her that appeared in the NoW alongside one of the paper's reporters was something that she had reluctantly agreed to and she had asked the journalist to "give Jude a break".
Ms Miller said she regretted that the information about her had been made so public during the course of the trial.
As she finished giving evidence, the judge, Mr Justice Saunders, offered the actress the apologies of the court for the fact her privacy had been breached.
Evans has pleaded guilty to conspiracy to hack phones at the Sunday Mirror between 2003 and 2005 and at the News of the World up to 2010. And he has pleaded guilty to misconduct in a public office between 2008 and 2010.
Evans has also confirmed he admitted perverting the course of justice.
The court was told he entered into an agreement with the Crown Prosecution Service in 2012 and has given two statements since.
Evans was appearing in the witness box for a fifth day and he will give more evidence on Monday as the trial continues.