Shrien Dewani loses High Court extradition case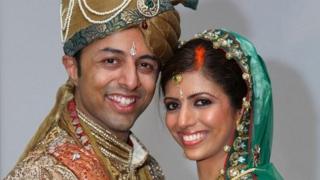 Shrien Dewani, who is accused of organising the murder of his wife Anni in South Africa, can be extradited to the country, the High Court has ruled.
Lawyers for Mr Dewani, 33, who has post-traumatic stress disorder, argued he should not be sent there until he was fit to plead over the 2010 killing.
But judges ruled he can be extradited as long as the South African government makes a pledge over how long he would be kept in the country without trial.
Mr Dewani is currently in hospital.
Supreme Court
Speaking outside the High Court, BBC correspondent Angus Crawford said the South African authorities had indicated they were minded to accept the court's conditions for extradition.
But he said Mr Dewani's family could yet lodge an appeal at the UK Supreme Court, which would continue to delay any extradition.
Delivering the court's ruling, Lord Thomas said: "It might be unjust and oppressive to order the return of a person who was agreed to be currently unfit, and where there was a prospect that he might remain permanently unfit, without considering whether an undertaking should be required from the requesting state."
The effect of the undertaking would be that "in the event of the appellant (Dewani) being found unfit to be tried, he will be free to return to the UK, unless there is found to be a realistic prospect of his being tried within a year - or other stated reasonable period - of that finding and the trial takes place within the period," Lord Thomas said.
Anni's cousin, Amit Karia, said the family was happy with the ruling by the three judges at the High Court.
"We have waited for it for three years, three months," he said.
"It seems a step closer to finally getting justice for our Anni."
Taxi kidnapping
A lawyer for the South African government said it was "delighted" with the court's ruling, and expected it would be able to give the necessary undertakings, but needed 14 days for "final clarification".
Mr Dewani, from Bristol, has been fighting removal from the UK to face proceedings over his new wife Anni's death until he has recovered from his mental health problems.
He is suspected of ordering the killing of Anni, 28, a Swedish national.
The pair were kidnapped at gunpoint as they drove through the Gugulethu township in Cape Town in a taxi in November 2010. Mr Dewani was released unharmed.
The next day the body of Mrs Dewani was found in the car. She had injuries to her head and chest.
South African Xolile Mngeni was later convicted of premeditated murder and jailed for life. Prosecutors allege he was hired by Mr Dewani to kill his wife.
Mr Dewani, who has always denied the accusation, has been fighting efforts to secure his extradition to South Africa ever since it was first ordered by a senior district judge in 2011.