Eastbourne soldier David Martin died descending Mont Blanc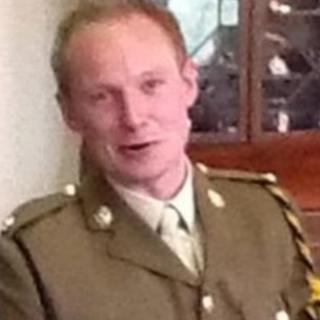 An off-duty soldier from Eastbourne died when he slipped and fell near the summit of Mont Blanc in the Italian Alps, an inquest has heard.
David Martin, 30, had just started descending the highest peak in the mountain range when he fell in August.
East Sussex Coroner Alan Craze said Lt Martin, of the Royal Logistics Corps, had a life of immense promise cut short.
He recorded a verdict of misadventure, saying it was a tragic accident.
Friend and colleague Owen Larson told the inquest he was in front of Lt Martin on a popular route used by people of all ages and abilities when he heard a bump and cursing from behind.
"I turned around and I saw Dave on his back sliding down towards a very steep ridge on the Italian side," he said.
Mr Larson said he shouted to his friend to "dig in" by swinging his ice axe into the snow but the axe would not stick in, leaving him unable to arrest his slow slide off the edge.
'Action man'
Rescue services were called and an Italian helicopter was scrambled to locate Lt Martin, an Exeter University engineering graduate.
The incident happened about half an hour after the pair started their descent down one of four routes during a five-day trip to 15,780ft Mont Blanc.
Lt Martin, from Lower Willingdon, was described by his parents in a statement as an "outdoors action man".
He was a "loyal, generous and extrovert young man" who had climbed Mount Kilimanjaro and turned down a chance to join the SAS course.
"He lived his 30 years to the full every single day," his parents said.
Mr Craze said: "This was a straightforward accident of someone slipping in the snow because of, maybe, the conditions or bad luck in not being able to arrest a slow slide."