Constance Briscoe judge will accept majority verdict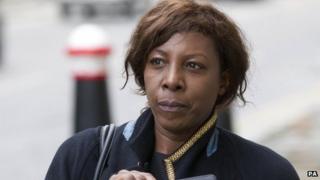 The judge in the case of Constance Briscoe, who is accused of lying to police investigating former cabinet minister Chris Huhne, has said he will accept a majority verdict.
Ms Briscoe is accused of lying about how she allegedly helped Mr Huhne's wife Vicky Pryce reveal that she took speeding points for Huhne in 2003.
She denies three counts of intending to pervert the course of justice.
The judge will now accept a verdict if 10 of the 11 jurors agree.
One member of the Southwark Crown Court jury was discharged on Wednesday.
Ms Briscoe, a barrister and part-time judge, has been suspended since her arrest in October 2012.
Points-swapping
In February last year, Mr Huhne pleaded guilty to perverting the course of justice by getting Ms Pryce to take speeding points for him. Ms Pryce denied the same charge but was convicted by a jury in March.
Both were jailed and have since been released.
During Ms Briscoe's trial, the court heard she helped Ms Pryce, a friend and neighbour in Clapham, London, to reveal information about Mr Huhne's points-swapping to newspapers after the couple separated in 2010.
The prosecution's case includes a claim that Ms Briscoe gave two inaccurate statements to police.
In one statement Ms Briscoe denied having any contact with journalists about Mr Huhne, but emails obtained through a court order showed this was untrue, the prosecution said.