Phone-hacking trial: Coulson 'was out' when tape was played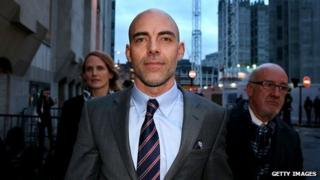 Andy Coulson was not in the office on the day a reporter said he played him a hacked voicemail message, the ex-News of the World editor's barrister has said.
Journalist Dan Evans said on Tuesday that Mr Coulson had been excited on hearing the message left for James Bond star Daniel Craig by Sienna Miller.
But Timothy Langdale QC said Mr Coulson was not in London on that day.
Evans said even if he got the date wrong, he did play Mr Coulson the tape.
Mr Coulson - who went on to be Prime Minister David Cameron's communications director before stepping down in 2011 - denies conspiracy to hack phones and a charge of conspiracy to commit misconduct in a public office.
He was at the Old Bailey to hear Mr Langdale question Evans - who has already admitted conspiracy to hack phones.
During one exchange, the reporter also said he could have been mistaken when he told the court on Wednesday that a tearful voicemail left on designer Kelly Hoppen's phone had been from her step-daughter, Ms Miller, adding it might have been left by her sister.
'Not fun experience'
On hearing the claim Mr Coulson had been out of London on the day Evans said he had played him the tape of the hacked message, Evans shrugged and raised his hands.
"I thought it was the same day," he said.
Evans told the court on Tuesday that Mr Coulson had said "brilliant" after hearing the message left by Ms Miller - in which she said she loved Mr Craig but was out with her boyfriend, Jude Law.
But on Thursday, Evans insisted that if Mr Coulson had not been in London on the day he had said he played the tape to him, it "does not alter the fact that I played the tape to Andy and the remarks made by him and (another journalist) happened. They were party to this".
"Certain salient facts are clear in my mind," he added.
Mr Langdale put it to Evans that he had not actually hacked the voicemail message.
But Evans responded that he did and that he was not in court "to make things up about Daniel Craig's message", adding that it was not a "fun experience" for him.
Evans said Mr Coulson had ordered that the tape of the message be copied and dropped off at the front gate of the News of the World in an envelope so the paper would be able to argue that the information had been given to it anonymously.
The original was destroyed and the copy went into Mr Coulson's safe, jurors were told.
"The editor's safe is legendary - where the secrets of the great and the good are kept for a rainy day," Evans said.
When told there was no tape in Mr Coulson's office, Evans suggested it may have been in another person's office.
'A bit embarrassed'
Evans also cast doubt on what he told the court on Wednesday about a message he said he had intercepted from actress Ms Miller to Ms Hoppen - following revelations about Mr Law's affair with his children's nanny.
He said that after thinking about it overnight, he now believed Ms Miller's sister may have left the message.
Mr Langdale asked why the NoW had run a story reporting that "the first shoulder Sienna turned to cry on was stepmum Kelly Hoppen's" when the voicemail may have been from her sister.
Evans replied: "It won't come as a shock to some people that not every piece of information in a tabloid is the truth.
"We re-write, we sanitise... I'm a bit embarrassed about it."
He said his superiors at the paper would not have been interested in Ms Miller's sister.
Evans said: "One of the things you do when you are trying to 'fill in' a quote is to say, 'what would they have said?'"
He said it was "just speculation stuck in a 'friend revealed' quote".
Evans had earlier explained that tabloid newspapers often made up quotes about celebrities, attributing them to "a friend".
Mr Langdale said Evans seemed to be a "rather risky hacker" when he was writing high-profile stories about the break up of Mr Law and Ms Miller.
Evans replied: "You might even say in a weird way that I wanted to get caught."
The jury has heard that Evans pleaded guilty to conspiracy to hack phones at the Sunday Mirror between 2003 and 2005 and at the News of the World up to 2010. He also pleaded guilty to misconduct in a public office between 2008 and 2010.
Evans also confirmed he had admitted perverting the course of justice.
The court was told he entered into an agreement with the Crown Prosecution Service in 2012 and had given two statements since.
Evans will appear in the witness box for a fifth day on Friday as the trial continues.