Winter Olympics: Team GB to wear understated kit for journey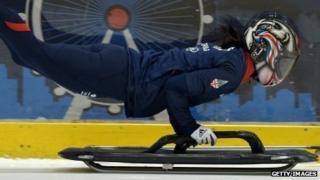 Team GB athletes should wear understated kit while travelling to Sochi for the Winter Olympics, the British Olympic Association has said.
It said there was no information or advice suggesting an increase in the threat level.
But it was a "common sense approach" to wear "less overtly branded" team kit for the journey to the Games venue in southern Russia.
The BOA said the advice was similar to guidance given to other Olympic teams.
The statement comes three days after UK officials warned that more terrorist attacks in Russia were "very likely to occur" before or during the Sochi Games.
Main danger
A threat assessment named a Caucasus group, Imarat Kavkaz (IK), as posing the main danger - saying it has repeatedly expressed a desire to target the Olympics.
The assessment points out that last July IK's fugitive leader, Emir Doku Umarov, called on his followers to do what they could to disrupt the Games.
In December, a twin bomb attack in the Russian city of Volgograd killed 34 people.
A militant Islamist group based in the southern Russian republic of Dagestan said it carried out the attacks.
The Russian authorities have launched one of the biggest security operations in Olympic Games history in an attempt to prevent any disruption by militants.
More than 30,000 police and interior ministry troops are being deployed and access to the area is being tightly controlled.
A "controlled zone" near Olympic venues will limit access to people with tickets and proof of identity while another "forbidden zone" will be in place in large areas around Sochi.
The International Olympic Committee has said it is confident that Russia will deliver a "safe and secure" Games.
Meanwhile, some British MPs have called for figures including diver Tom Daley, TV presenter Clare Balding and actor Sir Ian McKellan to be added to the British delegation to Sochi to promote equal rights for gay people.
Rhondda MP Chris Bryant said in the Commons it was important to "make the point that those who know in this country what it is to enjoy the freedom to live your life as you want have something to offer the rest of the world in Russia as well".
Ms Balding, who is in a civil partnership, has said she thinks it is important for her to attend the Games.
Some gay rights campaigners have urged a boycott of Sochi in protest at Russian President Vladimir Putin's introduction of laws banning "homosexual propaganda".
Eighty-eight countries will compete at Sochi. The Games open next week.