Madeleine McCann: British detectives fly to Portugal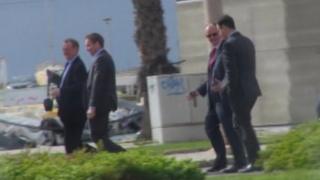 British detectives investigating the disappearance of Madeleine McCann have flown to Portugal and spoken to local officers, Scotland Yard has said.
Madeleine was three when she disappeared in 2007 from a holiday apartment in Praia da Luz, Algarve.
Portuguese police said the detectives were in Faro on Tuesday.
Detective Chief Inspector Andy Redwood, senior investigating officer in the case, is understood to be one of those who travelled to Portugal.
A high-profile campaign run by Madeleine's parents Kate and Gerry McCann, from Rothley, Leicestershire, and a Portuguese police investigation, have failed to locate the missing girl.
Burglaries
Last week, Portugal's attorney general's office acknowledged they had formally received a letter of request from the British authorities for assistance in their enquiries.
It was reported that the request concerned assistance to arrest three suspects who were carrying out burglaries at the Ocean Club complex in Praia de Luz, in the Algarve, where the McCanns were staying.
In the 17 days before she disappeared, there were two incidents in the McCanns' block, one burglary and one attempted burglary.
Police have said the possibility that Madeleine had been snatched by burglars as part of a bungled break-in was a key line of inquiry.
Between January and May 2007, when Madeleine went missing, there was a four-fold increase in the number of burglaries in the area.
Scotland Yard launched a new investigation into Madeleine's disappearance last July, two years into a review of the case, and made renewed appeals for information.
The detectives met their Portuguese counterparts at the Faro Judiciary. Scotland Yard confirmed a team of officers had been in Faro as one of a number of regular trips they have made in connection with the inquiry.
Thursday 3 May 2007: Timeline
20:30 Kate and Gerry McCann leave their apartment to have dinner at a Tapas bar
21:05 Gerry McCann checks on Madeleine and her siblings
22:00 A man is seen carrying a child wearing pyjamas heading towards the ocean
22:00 Kate McCann raises the alarm that Madeleine has gone missing