Andy Coulson called Sienna Miller tape 'brilliant', phone-hacking trial hears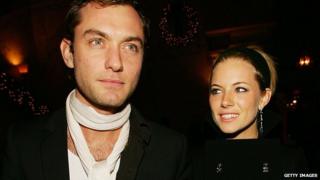 The News of the World's ex-editor, Andy Coulson, said "brilliant" when a reporter played him a hacked voicemail in the newsroom, a court has heard.
Dan Evans told the Old Bailey he played a message left for James Bond star Daniel Craig by actress Sienna Miller.
He said Mr Coulson then told him to destroy the original tape, in which Ms Miller said she loved Mr Craig but was out with her boyfriend, Jude Law.
Mr Coulson denies all charges including conspiracy to hack phones.
Evans, who has admitted hacking, said Mr Coulson and nine other colleagues at the now-closed Sunday newspaper had direct knowledge of what he was doing in 2005.
Prosecution witness Evans told the court the Sienna Miller voicemail said: "Hi, it's me. I can't speak, I'm at the Groucho with Jude. I love you."
Mr Coulson described the tape as "brilliant", Evans said.
Evans told the court he had discovered the message after hacking Mr Craig's phone.
He said a colleague then started "mobilising the story - allocating resources to it".
The colleague told him "to start knocking up a version to put before Mr Coulson", he added.
Evans told the court: "Later in the day, Andy [Coulson] came over wanting to hear the tape."
He said he played the tape to Mr Coulson and another executive.
"Andy came over wanting to hear the tape. I played the tape a couple of times and they listened to it," Evans told the court.
"Andy became very animated. Brilliant."
He told the court: "They said, 'Good work.'"
The executive "held my elbow and said, 'You are a company man now,'" Evans said.
He added: "Andy wanted to preserve the tape but not the original recording so he said to me, 'Make a recording of the tape and stick it into the jiffy bag, have it sent to the front gate and have them say it has been dropped in anonymously.'"
'Not true'
One of his colleagues picked the tape up with "mock surprise" and said "Look what I've found," Evans said.
Mr Coulson, sitting in the dock, shook his head and took notes as Evans gave his evidence.
Evans told the court that before the story broke he had been bullied to come up with stories.
He said one NoW journalist sent him an email saying: "If you do not come up with a front page story you might as well jump off a cliff."
Evans told the court he went to Mr Craig's house and knocked on his front door to "front him up".
When he confronted Mr Craig with a claim that he was having an affair with Ms Miller, the actor said: "No, no, no it's not true," the Old Bailey heard.
The story was published the following week in October 2005.
Evans told the jury: "For the record, I would like to apologise to them all for having their privacy infringed."
After Mr Law had been alerted, Evans listened in to another voicemail for Mr Craig, this time from Mr Law.
The court heard that, in it, Mr Law said: "Thanks, mate. I hope Saski [Mr Craig's then-partner Satsuki Mitchell] doesn't find out."
Evans said the story was run past Mr Law's public relations executive who "approved" it and it ran in the NoW.
Evans said: "Jude was obviously bouncing with anger about it. The PR performed a character assassination on Sienna. The story was run past the PR in its entirety.
"She approved it, and Jude approved the story to go in. He was obviously very unhappy at the time."
Asked about his own criminal past, Evans told the court he smoked his first "spliff" at the age of 14 and was "busted" for amphetamines and cocaine.
But he insisted he had not had any drugs in his system for some time, telling jurors: "I consider myself recovering."
On Monday, Mr Law appeared as a witness in the trial and said the media seemed to have "an unhealthy amount of information" about his life.
He also said photographers would turn up at places where he had secretly arranged to take his children.
Charges denied
Evans earlier told the court he had destroyed evidence of phone hacking when police began investigating the practice in August 2006, including the activities of News of the World royal editor Clive Goodman and private investigator Glenn Mulcaire.
He said: "Everybody was on tenterhooks, there was a lot of fear and anxiety around - a lot of people were preparing to cover their tracks."
A senior staff member then told him, "'It goes without saying no more hooky stuff' - hooky stuff being voicemail interception," he added.
Evans, who had targeted the voicemails of celebrities including Kate Moss, Cilla Black, Jade Goody and Sir Trevor McDonald, said he ripped up notebooks and destroyed micro-cassette recordings.
He said he was caught in 2010 after he tried and failed to access the voicemail of interior designer Kelly Hoppen, who, suspecting hacking was taking place, got a court order which helped police link the attempt to his News International phone.
On Monday, the jury heard Evans had pleaded guilty to hacking at the Sunday Mirror between 2003 and 2005 and at the News of the World up until 2010.
He also pleaded guilty to misconduct in a public office between 2005 and 2010.
The court heard he entered into an agreement with the Crown Prosecution Service in 2012 and had given two statements since.
Mr Coulson is one of seven people who deny charges related to phone hacking.
He also denies conspiracy to commit misconduct in a public office.
Former News of the World editor Rebekah Brooks also denies charges including conspiracy to hack phones.
Clive Goodman denies conspiracy to commit misconduct in a public office.