Dave Lee Travis trial: Radio 1 assault claim 'lies'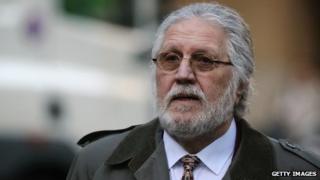 Claims ex-DJ Dave Lee Travis assaulted a teenager in a Radio 1 studio are "out and out lies", he has told a court.
Mr Travis told Southwark Crown Court allegations against him were "nonsense" and denied forcing himself on women.
He said he was subject to female attention as a BBC DJ in the 1980s and had fallen into temptation "once or twice" but stressed it was consensual.
Mr Travis, 68, of Mentmore, Buckinghamshire, denies sexual assault and 13 counts of indecent assault.
He is accused of indecently assaulting 10 women and sexually assaulting another.
'Just lies'
Giving evidence for a second day, Mr Travis said the allegations had left him "heartbroken".
He told the jury: "After this I will never have an interview with a female again without somebody else sitting there with me. It just breaks my heart."
Defence barrister Stephen Vullo asked Mr Travis about allegations he assaulted a teenager in his Radio 1 studio, to which he replied: "This is just lies, out and out. I don't have to recall that as it never happened."
When he was asked if he could have got away with such behaviour while working at the BBC, Mr Travis said: "Yes, my position was quite high up within the echelons of DJs but nobody is bigger than the station - ever."
The woman has told the court she was indecently assaulted while he was presenting his Radio 1 show in the mid-1970s, when she was aged 17.
She said she complained to the BBC, her former employer, after claims about Jimmy Savile emerged but was told that it did not take such calls.
She told the jury she was too embarrassed to tell anyone at the time of the alleged incident.
Top Of The Pops
Referring to an accusation he indecently assaulted a woman in his Winnebago motorhome after a show, Mr Travis replied: "I don't force myself on women. It's not me, it's simply not me."
Mr Travis dismissed allegations that he groped a teenage girl during a live edition of Top Of The Pops in 1978 as "completely insane", adding that he had no recollection of the supposed incident.
Asked if the claims were true, he said: "No, it's not. It's not even close.
"That is a completely insane claim, and it's especially insane because I've seen the video."
Mr Travis added that there was no way the footage could have been edited to avoid viewers seeing the alleged assault.
He also denied an allegation that he pinched the bottom of a hotel worker during a Radio 1 roadshow, telling the court: "It's not my style."
Stage hand
Referring to an allegation he indecently assaulted a female stage hand working on a pantomime in which he performed, Mr Travis said he would have expected to get in "big trouble" if it were true.
He told the court: "This is what has been doing my head in about this case, it's the numbers.
"It's because there are quite a few complaints against me that this is any way important to people. I hate this idea that there is no smoke without fire."
He rejected the idea that she would have decided not to complain at the time because he was a celebrity, adding: "You are never too big in this industry, you can be knocked over very quickly and I don't believe in taking risks with my business and I certainly don't believe in attacking young girls."
'Real problems'
Mr Travis told the jury he believed his trial was taking attention away from women who had been mentally abused or "beaten up".
He said: "I know this is only a lot of nonsense.
"I just feel that the women who really have been attacked, women who have been at home and been through mental abuse by their husbands or beaten up by anybody else or really attacked - because this has been going on with me - it makes it less likely that real problems are going to be looked at."
The offences of which Mr Travis is accused allegedly took place while he was working as a BBC radio DJ, on Classic Gold radio, on BBC One's Top Of The Pops, and in pantomime.
He is being tried under his real name David Patrick Griffin.
The trial was adjourned until Wednesday.