Environment Agency 'worked socks off' over floods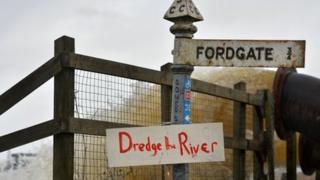 The head of the Environment Agency has defended its handling of the floods, saying its staff have "worked their socks off" over the past two months.
It follows criticism that the organisation failed to protect the Somerset Levels, which have been badly hit by flooding, by dredging rivers.
The National Farmers Union in the South West says the floods have left farmers in a state of "utter despair".
Lord Smith said dredging would "probably make a small difference".
But he added: "It's not the comprehensive answer some people have been claiming it is."
On Monday, Environment Secretary Owen Paterson promised an action plan would be drawn up within six weeks to provide a long-term solution after being confronted by angry residents.
Currently about 11,500 hectares (28,420 acres) of the Somerset Levels are inundated by about 65 million cubic metres of water.
'Homes protected'
Chris Smith, chairman of the Environment Agency, told BBC Radio 4's Today programme there had been one or two people "who have been throwing a lot of brickbats at the Environment Agency and its staff".
"These are staff who over the course of the past two months have been working their socks off, night and day, right the way through Christmas and new year," he said.
"They have been running pumping stations, erecting de-mountable defences, they have been co-ordinating information for the emergency services, providing warnings where needed, clearing blockages - they have been working their hearts out and in the process have protected one million homes from flooding. "
He added: "None of that diminishes the terrible impact flooding has had on the Somerset Levels, something like 65 sq km under water and some villages completely cut off. "
'Disaster area'
Lord Smith said the agency began to dredge some of the "choke points" on the Parrett and Tone rivers last year, "because it can make a contribution". But he added: "It's not a wholesale solution and we need to look at a whole range of other things as well."
The former Labour cabinet minister said the agency would protect its response to flooding emergencies from cuts - around 1,700 of the agency's 11,400 workers are set to lose their jobs.
The agency would "do whatever we possibly can within the limited resources available to ensure that agricultural land is protected", he said, though it was right that it was under a legal duty to prioritise human life and property.
Jean Venables, chief executive of the Association of Drainage Authorities, said: "It's a disaster area down there and it could have been avoided if we had kept up with maintenance on the rivers.
"We have a 20-year backlog of inactivity down there and it's actually very, very urgent that those rivers are dredged."
Properly-maintained flood plains would "drain away within a matter of days and then be ready for the next flood", she said, warning that the extreme deluges were in line with climate-change projections.
Mr Paterson promised a new plan to deal with flooding which would "almost certainly" involve a project to clear the rivers, acknowledging national guidelines on dredging were not appropriate for the Levels, around 100 square miles of which are below sea level.
The Environment Agency currently has 14 flood warnings in place, 10 of which are in south-west England.
BBC weather forecasters said further rain was expected on Tuesday and Wednesday - but there would be a brief respite on Thursday before wet weather returns on Friday.
The Association of British Insurers said they have had £426m worth of claims arising from the flooding which began before Christmas - with 174,000 claims for damage to homes, businesses and cars.
Meanwhile, keepers are searching for a missing raccoon called Missy which has escaped from Tropiquaria in Washford, Somerset, after recent flooding left the ground soft enough for her to dig her way out.