Holocaust Commission to plan UK memorial to victims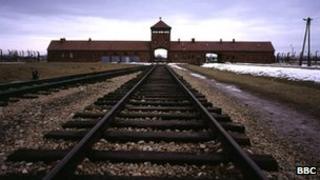 Actress Helena Bonham Carter, whose grandfather saved Jews in World War Two, is to join a commission to examine how the UK remembers the Holocaust.
Announcing details of the commission on Holocaust Memorial Day, Prime Minister David Cameron said he wanted a "permanent and fitting memorial" to the millions of Jews killed by the Nazis.
Chief Rabbi Ephraim Mirvis and broadcaster Natasha Kaplinsky will be among others on the commission.
The public can submit views until May.
Holocaust Memorial Day marks the anniversary of the liberation of the Auschwitz-Birkenau concentration camp in 1945.
The prime minister spoke of the importance of "keeping the memory of the Holocaust alive".
He said: "We face a real danger that, as the events of the Holocaust become ever more distant, they feel increasingly remote to current and future generations."
As well as a memorial, there should be "meaningful educational resources", Mr Cameron said.
'An inherited responsibility'
Ms Bonham Carter's grandfather, Eduardo Propper de Callejon, was working at the Spanish embassy in Paris when France surrendered to Germany in June 1940.
He issued transit visas that enabled hundreds of Jews to escape across Spain to Portugal.
The actress said she would join the commission "in particular memory of those members of my family who died in the Holocaust, and as an inherited responsibility to my grandfather".
Members of Ms Kaplinsky's family died in the Slonim ghetto, in Belarus.
Other members of the commission will include Education Secretary Michael Gove, Liberal Democrat minister Simon Hughes and Labour shadow chancellor Ed Balls.
Holocaust Educational Trust chief executive Karen Pollock said: "There can be no more fitting assurance to survivors to know that, as their number sadly declines, we are looking ahead to ensure that there is a permanent and fitting memorial to the Holocaust in this country.
"The prime minister's national Holocaust Commission is a significant step in achieving that goal."