UK weather: More rain hits already flooded areas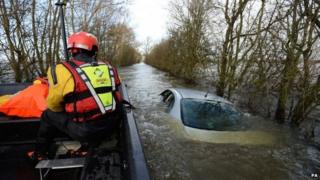 Heavy rain has swept across parts of the UK, including recently flooded areas in southern England, with forecasters warning of ice overnight.
The heaviest rainfall was in Wales, with about 22mm (0.9in) in 12 hours.
The number of Environment Agency flood warnings - meaning "action required" - has been rising through the day and is now 14, including 10 in the South West.
Rain warnings have subsided but falling temperatures in the evening will lead to ice across the UK, forecasters say.
The Met Office issued a yellow warning for almost the entire UK, valid from 18:00 GMT and 10:00 GMT on Monday, and said people should be aware of the potential for travel disruption.
Only some western and southern coastal areas are excluded from the warning.
There were fears of more flooding in the Somerset Levels, where a "major incident" was declared on Friday, but the EA said it was unlikely any new properties or new communities would experience flooding.
Farmer Graham Walker said his village had been cut off for some time.
"We've been on an island now for just over three weeks," he said.
"We've got a boat provided by the council, run by the fire brigade which is an absolute godsend and that gets people out... schoolchildren can get to school, people to work but it's getting a bit tedious now."
Meanwhile, more than 145 flood alerts - meaning flooding is possible - have also been issued, with more than half of them in the South East of England.
There is also one flood warning and several alerts in place in Scotland.
Procession cancelled
In other developments:
The poor weather is affecting travel in some parts:
The rainy weather comes after storms hit the Midlands on Saturday evening, with buildings struck by lightning and property damaged.
There were also reports of "mini-tornadoes" in parts of Surrey and Warwickshire, with one said by an eyewitnesses to be so strong it brought down trees and even lifted cats into the air.
However, the BBC Weather Centre could not confirm whether there had been any tornadoes.
BBC weather forecaster Laura Gilchrist said: "Eye witness descriptions and photos of the damage suggest that an isolated small tornado could well have occurred, however without an expert visiting the site or footage or photos of the tornado itself, it cannot currently be confirmed that a tornado was responsible."