Patients should be pushier with GPs, says watchdog chairman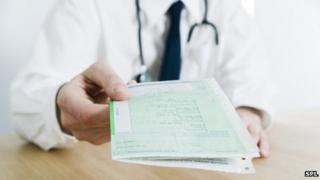 Patients have been urged to adopt a pushier attitude to get doctors to prescribe the drugs they need.
Prof David Haslam, chairman of the National Institute of Health and Care Excellence (NICE) told the Daily Telegraph people should see themselves as equal partners with their doctors.
NICE gives advice on the use of new drugs by the NHS.
Prof David Haslam said patients had a "legal right" to medicines once they had been endorsed.
He compared the deferential attitude of British patients towards their GPs to that of Americans who "want to know more about their treatment".
'Your body'
In the UK people "tend to be much more, 'thank you doctor, I will take that'," he said in an interview with the Daily Telegraph.
Prof Haslam told the paper "mercifully" attitudes in the UK were changing but that patients should be more proactive about their health.
The NHS faced criticism last week over figures apparently suggesting certain drugs were not being used, despite being given the green light from Nice.
But Prof Haslam told the Telegraph: "When products have been approved for use by the NHS by NICE, patients have a legal right to those drugs - as long as they are clinically appropriate.
"The take-up should be much higher than it currently is."
He added: "Patients have a right under the NHS constitution to these therapies, so I really hope we can improve this."
And he said to get the best healthcare, patients should understand more about the medicines available.
"The fundamental point is, it's your body," he said.
"And the more you understand about the drugs you are taking, or what you might be able to have, the better you are able to work with your doctor."
'Best care'
The former GP was not suggesting patients should be confrontational with their doctor, the Telegraph said.
But he added: "It is essential for the future of the health service and for the future health of the nation that patients understand their conditions, their treatments and work with their health advisors so they can have the best care."
Prof Haslam became chairman of the NICE board in April.