Lewis Clarke speaks of record-breaking South Pole trek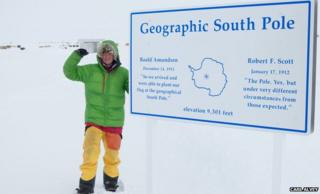 Lewis Clarke has become the youngest person to ski-trek to the South Pole. Now the 16-year-old is safely back home in Bristol, what does he make of his extraordinary adventure?
For nearly 50 days, Lewis Clarke ate, as he puts it, "different flavoured mush".
One day that mush might be lasagne, the next beef stew.
But every meal, carefully prepared by adding melted snow to freeze-dried food, had one thing in common. It tasted absolutely nothing like the real deal.
"That was pretty disgusting to be honest. There were flavours on the packets but they didn't taste like they should," he says.
Another daunting prospect was popping to the loo outside - even for a boy who says he often wears shorts in the middle of winter.
With temperatures as low as -50C and winds of up to 50mph, that particular necessity became a real event, he jokes.
Fish and chips
But the austerity became worthwhile when, on 18 January, 16-year-old Lewis made history.
While most boys of his age were playing computer games, messing around at school or thinking about sneaking out clubbing, he reached the end of a gruelling 48 days to become the youngest person to ski-trek to the South Pole.
So the British staple of fish and chips devoured on his first night home, followed by a full 12 hours sleep, felt pretty amazing, he says.
For a boy who had never skied cross country - and harbours no ambitions to rival the great explorers - his 700-mile (1,100km) trek through the coldest continent on Earth was no mean feat.
It was a journey that began on 2 December - just two weeks after his 16th birthday - and saw him pull all he needed to survive through snow and ice for nine hours a day.
"Nothing can really prepare you for what it's like out there," he tells the BBC, in his first full interview since his return to the UK on Thursday.
Lewis and experienced polar guide, Carl Alvey, 30, navigated their route by keeping the sun, which shines for 24 hours a day in summer, behind them and their shadows at a specific angle to it.
But under unpredictable Arctic skies, they often switched to using compasses strapped to their chest harnesses. "We had to be very precise. You don't want to be wandering into a crevasse," he adds, rather nonchalantly.
There were ups and downs. A snapped ski half-way there, blisters, wind burn, colds and blizzards. He also lost more than four stone in weight.
Despite this, Lewis found this new way of life all consuming; "It becomes everything," he says.
"You just try not to think about what you're missing. You try to accept that you're out there and that it's as nice as it's going to get."
'Lonely place'
He spoke to his parents Sarah and Steven and 11-year-old brother Solomon by satellite phone each week. He says this was "more for them than me", but hastily adds: "It was nice for me as well because it can be a pretty lonely place."
He and his expedition guide got on well, though conversation could be mundane.
"A lot of the time it's just sitting and being quite functional 'Can you pass that? Can you do that? Here's this'. We were with each other for 50-odd days so you do run out of things to talk about."
Lewis also called his classmates at Queen Elizabeth's Hospital School ahead of his final push for the Pole.
Aside from much-needed support, they quizzed him on toilet etiquette, what he was eating and how cold it was.
Most days were a slog but there were moments to savour too.
"There were days when we were going fast, the sun was shining, and I was feeling strong and good, and I was able to appreciate it. I just thought 'Wow, this is a pretty amazing place and what I'm doing is pretty amazing'."
The unchanging landscape meant that even the sight of a solitary mountain range half-way to the Pole was a welcome boost.
And the pair marked Christmas Day with their only day off, reading and opening a few small presents.
Kept diary
He kept a diary and looks forward to reading it, though he says he will leave it a few months.
The last day was by far his hardest. Amid the coldest temperatures they had experienced, it was too dangerous to stop and rest, and tiredness took hold.
"I think at that point we made the mistake of mentally already being there.
"The night before we knew we were really pretty close and we thought 'Tomorrow will be pretty easy, it'll be a doddle', and then the wind picked up and it ended up being pretty tough."
One quirk of the final day was that it was not a straight line to reach the Pole.
"You have to go a long way to the left - so you're skiing away from the Pole - and that's quite weird. You just want to get there and you keep asking yourself 'Why can't we just go towards it?'"
Reaching the Amundsen-Scott South Pole Station at 18:00 GMT (15:00 local time) saw mixed emotions.
It was the pinnacle of a trip that was three years in the making, with training in Norway and Greenland, and even months of tyre-pulling on the Bristol Downs.
"I was really excited and happy just being there because it was what I had been working towards for a few years... but there was also reticence about it.
"It felt like a goal that had always been there and I had never really thought beyond that, so I was sad it had finished."
'Scott anniversary'
Lewis describes the South Pole as a collection of rather inconspicuous buildings.
Then there is the "real" South Pole, marked by a simple sign, and the "ceremonial" South Pole - a metallic sphere on a plinth surrounded by flags - which is, as Lewis puts it, a bit more flashy.
But a distinct lack of fanfare did not stop him feeling the weight of history.
The South Pole was first conquered by Norwegian Roald Amundsen in December 1911, while Briton Captain Robert Scott arrived a month later to find he had been beaten to it, and later died returning home.
"It was quite amazing thinking that only 300 people have ever done what I did before.
"I arrived the day after Scott did 102 years before. It was quite amazing thinking that these heroes from years ago had done exactly the same thing as me and were going through the exact same emotions as I was walking towards the Pole."
In achieving his goal, Lewis broke the record for the same coast-to-pole route taken by Sarah McNair Landry from Canada in 2005, when she was aged 18.
Lewis says the record matters but it's not the reason he took on the challenge. "For me it was always just getting there, that was the main thing, and being the youngest is just kind of a cool little extra."
Though he does have record-breaking form - in 2010 he was part of the youngest team to swim the English Channel, aged 12. After that was over it "left a hole", and he was in need of a new challenge, which eventually led to his Polar adventure.
Lewis heads back to school on Monday, a thought at which he groans.
He will busy in the coming months catching up on missed classes to be ready for his GCSEs this summer.
And after that?
"Let's just see how things go," says Lewis, who gives his first public talk at London's Adventure Travel Show later.
"I've never really had any ambition to be a great explorer, I just loved doing this."