Dave Lee Travis trial: DJ 'said groping behaviour was norm'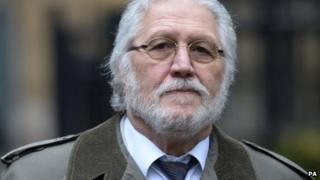 DJ Dave Lee Travis told police after his arrest that groping behaviour was the "norm" during the 1970s but denied sexual offences, a court has heard.
Prosecutor Teresa Hay said he told police that "if he had touched someone's breasts he would admit it".
He said he would have been insane to grope anyone in a BBC studio, a claim made in court by a previous witness - Ms Hay told Southwark Crown Court.
Mr Travis denies 13 counts of indecent assault and one of sexual assault.
'Reputation everything'
During a series of police interviews after Mr Travis's arrest in November 2012, he described the various allegations against him as "absurd and ridiculous".
Reading extracts from the interviews, Ms Hay said: "He said if he had touched someone's breasts he would admit it as it was considered to be a bit flirtatious at the time and no-one thought that much about it.
"He said the allegations did not happen. If any of it had been true he would apologise and accept that this was the norm in that period.
"He said his reputation was everything to him - if it had happened he would happily own up."
On Thursday, a woman told the court Mr Travis indecently assaulted her in a BBC studio while presenting his Radio 1 show in the mid-1970s.
Referring to that claim, Ms Hay said: "He said the allegation was unbelievable and he was shocked that people in his industry were such targets.
"He said he would have had to be a moron to do anything in the studio when people could see in from outside."
Asked by officers about the similarities between some of the women's accounts, the defendant said: "Two people who are not connected are both telling porkies."
The court heard he described allegations that he groped a teenage girl in the audience of Top Of The Pops in 1978 as "ridiculous and stupid".
"There were cameras on him from all angles and the show goes out to 20 million people," Ms Hay said.
'No angel'
Mr Travis also told police he would have reported fellow BBC broadcaster Jimmy Savile if he had known he was a paedophile.
Asked about his relations with Savile - who died in 2011 - he told officers conducting Operation Yewtree that he knew him only as a colleague and someone to say hello to if they passed in a corridor.
Ms Hay said Mr Travis had told police: "Like most people at the BBC I did not know him."
She added: "He described Jimmy as having a verbal wall. No-one got any sense out of him. He felt like he could not get through.
"He said he knew he liked young girls but, when all of this came out, most of them sat back in horror. He said he thought 'good luck to him'."
He said he did not think the girls were under the age of consent and "would have reported him if he'd known he had been a paedophile", the prosecutor said.
Ms Hay said Mr Travis described the allegations against him as "degrading" and said he was considered "fair game" because of his celebrity status.
"He was in the firing line and anyone could take a shot. He said he was no angel but he thought it was just not on."
The court heard he told officers he thought it "incredible that people were coming out of the woodwork" after 40 years, and said he expected it was because they wanted to sell their stories due to the "money grabbing culture".
'Naturally huggy'
Mr Travis, who said he had been "happily married" since 1971, described himself as a "tactile" person who would usually kiss and or hug men and women when meeting them but said he would never grope them.
He "understood the line between being naturally huggy and making people feel uncomfortable", Ms Hay said.
"He accepted that he had opportunities but if you live in a sweet shop you do not eat the sweets."
Jurors were told that after being arrested and questioned, he was interviewed by police on three further occasions in March, August and September last year.
Mr Travis, 68, of Mentmore, Buckinghamshire, is charged with counts of indecent assault between 1976 and 2003 and a sexual assault in 2008, involving a total of 11 women who were aged between 15 and 29 at the time of the alleged offences.
He is being tried under his real name David Patrick Griffin.
The trial was adjourned until Monday when jurors will hear more about the police interviews.