Gabor Vona: May urged to ban far-right leader from UK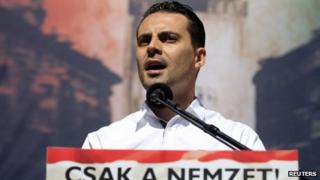 Calls are mounting for the Home Secretary Theresa May to ban Hungarian far-right Jobbik party leader Gabor Vona from entering the UK.
Labour MP Frank Dobson and London Assembly Member Andrew Dismore urged the Home Office and Metropolitan Police to act to prevent potential unrest.
Mr Vona plans to stage a political rally in central London on Sunday, the eve of Holocaust Memorial Day.
He has denied claims he will meet other far-right parties including the BNP.
Mr Vona's Jobbik party has been accused of holding strong anti-Semitic views, and of fuelling hatred against the Jewish and Roma communities.
It is the most successful extreme right organisation in Europe, with three seats in the EU parliament and 44 in the Hungarian Parliament.
It has been linked to far-right parties in the EU such as the BNP, the French Front National and Greece's Golden Dawn.
Mr Vona, who founded the now-outlawed Magyar Garda Mozgalom paramilitary group, is set to speak to Hungarian expatriates at the event in London.
'Outwardly fascist'
Mr Dismore - who originally proposed the UK's Holocaust Memorial Day - has written to Ms May demanding that Mr Vona be banned from holding the event.
He called Jobbik "the most powerful outwardly fascist political party in Europe".
And Labour's shadow home secretary Yvette Cooper told the Jewish News she had called on Ms May to look at whether the Jobbik leader's visit was "conducive to the public good".
Campaigners Hope Not Hate also plan to hand a petition to the Home Office calling for Mr Vona to be excluded from the UK.
A Home Office spokesman said: "We do not comment on individual cases or if someone is under consideration for exclusion."
Mr Vona has denied allegations he is meeting members of Greece's Golden Dawn party - who have openly expressed admiration for Adolf Hitler - and the BNP on Sunday.
A spokeswoman for Mr Vona said that he was hosting a forum for Hungarian citizens in Britain ahead of a forthcoming election.
She said that claims to the contrary were "false", adding: "He has no intention of meeting anyone from Golden Dawn or the British National Party.
"This is a forum for Hungarian citizens. This is not to do with anyone else. There are lots of Hungarians living in London and the election is coming up in Hungary."
Earlier this month BNP leader Nick Griffin said that his party was likely to forge an alliance with Jobbik and Golden Dawn after the European Parliament elections in May.
Under the terms of an exclusion order, the home secretary can stop people entering the UK if she believes there is a threat to national security, public order or the safety of citizens.
Not for opinions
That includes banning people if it is believed that their views glorify terrorism, promote violence or encourage other serious crime.
But it does not include banning people just for having opinions that other people would find offensive.
In 2010, Indian Muslim preacher Zakir Naik was stopped from entering the UK.
Ms May said that visiting the UK was "a privilege, not a right", and said that numerous comments made by Dr Naik were evidence of his "unacceptable behaviour".
There were also calls for the Dutch Freedom party politician Geert Wilders to be kept out of the UK in 2009.
His controversial film Fitna - which links the Islamic holy book to terrorism - caused outrage across the Muslim world when it was posted on the internet.
But an immigration tribunal ruling overturned a ban issued by the Home Office on him entering the UK after it rejected claims that his presence could "inflame community tensions and lead to inter-faith violence".