Sean Turner: 'Lost opportunities' in care, rules inquest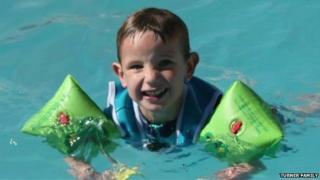 A children's hospital where a four-year-old boy died after heart surgery "lost opportunities" to help him, an inquest has ruled.
However, coroner Maria Voisin said Bristol Children's Hospital did not fail Sean Turner with its basic care.
She recorded a narrative verdict, ruling that Sean died from a cerebral haemorrhage, thrombosis and a congenital heart defect.
His parents said they now have to "try and rebuild" their lives.
The vital corrective surgery took place six weeks before Sean, from Warminster in Wiltshire, died in March 2012.
Ms Voisin said she had not heard evidence during the inquest of any "gross failures to provide basic care" in the treatment Sean received on Ward 32 of the hospital.
She said she would not be writing a prevention of future deaths (PFD) report to the trust.
During the hearing, the court was told the ward had staffing problems and did not have a high-dependency unit at the time of Sean's death.
The coroner heard how Sean developed a blood clot and was given a clot-busting drug, which can cause bleeding, and it was this that caused the fatal bleed in his brain.
His parents, Steve and Yolanda Turner, aged 47 and 45, told the inquest how they begged doctors and nurses to help him.
They accused the nursing staff of moving Sean from intensive care too soon and said signs of his worsening condition - rising blood pressure, vomiting and fluid loss from his chest - were missed.
Following the verdict, the parents' solicitor read a statement on their behalf saying: "There were many missed opportunities to rescue Sean from his desperate situation.
"We now have to try and rebuild our lives without our little boy."
Mr and Mrs Turner said Sean's death was not isolated. Up to 10 families are believed to be taking legal action against the University Hospitals Bristol NHS Foundation Trust over treatment on Ward 32.
Robert Woolley, chief executive of the trust, offered his "sincere apologies" to the family for the additional distress caused in relation to Sean's death.
"We are always improving our services and we've made significant changes since Sean was on the ward in early 2012," he said.
"Through medical advances we are able to treat children today who in previous decades would not have survived with the condition they were born with."