'Plebgate': Met Police reject PC's resignation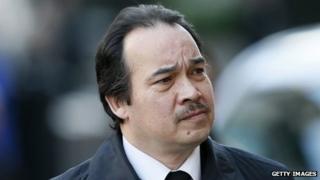 A police officer who admitted misconduct in the "plebgate" affair has had his offer to resign refused.
PC Keith Wallis may face prison after he admitted pretending to witness the 2012 row between the then cabinet minister Andrew Mitchell and police.
When he entered a guilty plea to misconduct in public office at the Old Bailey, it emerged he had also offered to resign from the Metropolitan Police.
But the Met said his superiors had the right to refuse.
"The deputy commissioner has refused to accept PC Wallis's resignation and he will face a misconduct board in the coming weeks," Scotland Yard said in a statement.
Mr Wallis is due to be sentenced on 6 February and will then face being sacked.
There has been controversy in past cases when officers have retired or resigned and avoided disciplinary hearings.
What came to be labelled by the media as "plebgate" occurred in September 2012 when Mr Mitchell was stopped from cycling through Downing Street's main gates by another police officer, Toby Rowland.
Mr Mitchell has admitted swearing during the incident but has denied claims that he swore directly at police or used the word "pleb".
The row led the Conservative MP to resign as government chief whip.
In the aftermath, PC Wallis sent an email to his local MP John Randall, then Conservative deputy chief whip, wrongly stating he had witnessed the row.