Dave Lee Travis trial: DJ 'touched reporter's breasts'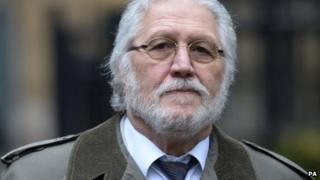 A woman has told a jury that former BBC DJ Dave Lee Travis groped her breasts when she went to his house to interview him for a national magazine.
He told her he was a photographer and suggested she pose in a bikini after she noticed a "provocative" photo of a pop star on his wall, the jury heard.
The woman told Southwark Crown Court she felt "embarrassed" and "taken aback" but did not say much.
The 68-year-old denies sexual assault and 13 counts of indecent assault.
The woman said the incident took place when she went to Mr Travis's home to interview him about a photograph of him and Jimmy Savile alongside a number of other DJs.
'Arms out'
Mr Travis - who is being tried under his real name of David Griffin - told her he was a photographer as well as a DJ, and twice offered to take her picture, the court heard.
The woman, who cannot be identified for legal reasons, said she felt as though she was in an "enclosed space" as they spoke face to face in his kitchen.
"He raised photography and said again 'I could take some photos of you'. The first time when I dismissed it, I thought the conversation wouldn't happen again," she said.
"The fact that he raised it again, I almost felt like I had to justify myself. I burst out 'No - and anyway, my boobs aren't big enough' because I thought that would put him off.
"He didn't say anything, there was a split second where neither of us said anything and then suddenly he put his arms out and put his hands on my breasts and then quizzically put his head to the side as if he was judging himself - whether they were big enough."
The woman said she thought Mr Travis left his hands there for a "couple of seconds".
She went on: "It felt to me like he knew that this was an opportunity. In hindsight I see that he was looking for an opportunity and he took it. I did not invite him to touch me.
"The picture was very obviously about a young girl in a bikini showing her cleavage. I knew what he meant when he said I had a good figure. He wanted me to strip down."
'Big fuss'
When she told her mother what had happened, they agreed he was a "pervy old man" and that they would not let the incident get in the way of her career, she added.
She told jurors she did not go to the police or tell her bosses at the time because she did not want to jeopardise her fledgling career by making a "big fuss".
It was after allegations against Mr Travis surfaced in the press that she decided to go to the police, the court heard.
Two friends, with whom the woman shared a house, gave evidence at the trial.
One told the jury her friend appeared "stressed" and "upset" when she came home on the evening of the interview, and had said Mr Travis put "both his hands on her breasts".
Mr Travis, of Buckinghamshire, denies sexually assaulting the female reporter in 2008.
He further denies 13 counts of indecent assault between 1976 and 2003 - involving 11 women, one of whom was 15 at the time of the alleged offence.
The trial was adjourned until Thursday.