Thousands of farmers expected at agricultural equipment show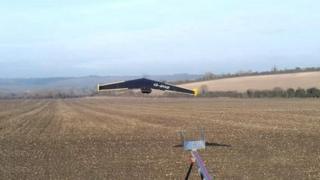 Forty thousand farmers from around the world are expected to arrive at the East of England showground for the Lincolnshire Agricultural Machinery Manufacturers Association (LAMMA) show.
Government figures released on Wednesday show that agricultural manufacturers and wholesalers are now worth £2bn to the UK economy.
They also support some 40,000 jobs.
The technology on show includes a British-made drone and a machine called "Robocrop".
Robocrop can be found in the main arena. The machines have digital cameras that look down at the crop as it moves forward.
The images are analysed by a computer that identifies which plant is a weed and which is a crop.
The rotor blades then remove just the weed. It can cut between rows of plants and in between each individual plant. Each Robocrop costs around £60,000.
Philip Garford is director of Garford, the company that makes Robocrop.
"There is no chemical use," he says. "Many of our clients are pure organic farmers, but there are other farmers because there are fewer herbicides that they can use these days."
'Mini robots' close
Demand for the Robocrop is growing.
"This is British technology being exported all around the globe," Mr Garford says.
According to Prof Simon Blackmore from the National Centre for Precision Farming, the "next generation of mini robots" is just around the corner.
He tells the BBC that the technology was being developed to "zap" weeds.
"Laser weeding can heat up the growing point of the weed and make it go dormant," he says. "This could reduce chemical use by 99%."
Farmers are even taking to the skies. At another stand at LAMMA, a drone - or UAV (Unmanned Aerial System) - is on display.
Mark Jarman is from Salisbury-based Ursula, which has has been in existence for less than a year and has orders from around the world.
"We turn up to the farm and they tell us where they want to fly and what information they want," he says.
"For example, if they want to know where the weeds are in their fields. We capture that imagery and extract the information from it and turn it back to them as data which will ultimately improve their yields."
He dismisses any concerns about an invasion of privacy.
"We are flying over farmland. All there is realistically is lots and lots of crops," he says.
"We're not selling the imagery on to anybody, that imagery is our property, we sell it to the farmer and them alone so people shouldn't be worried about the info that is being captured."