BBC Savile review delivery delayed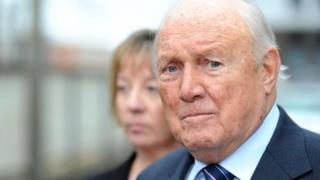 Delivery of the BBC's review into what it knew about Jimmy Savile has been delayed until mid-2014 at the request of Lancashire Police and the CPS.
They asked the review team to wait until criminal proceedings against ex- BBC presenter Stuart Hall had concluded to avoid prejudicing his trial.
The BBC's independent inquiry, led by Dame Janet Smith, had been intending to publish its findings during January.
It has been in contact with 720 people and interviewed 140 witnesses.
A statement from the review said the delay was requested owing to fears its report could adversely affect the fairness of Hall's trial.
The 83-year-old broadcaster is facing 15 charges of rape and one count of indecent assault involving two girls.
The statement said: "Dame Janet Smith and Dame Linda Dobbs appreciate the wish of many (including the victims) that the report be delivered as quickly as possible.
"They have, however, considered the request and concluded that, in the interests of justice, delivery of the report should be delayed. The BBC has been informed of, and agrees with, the review's decision."
Dame Janet's inquiry was launched after allegations of decades of abuse committed by former BBC DJ Savile emerged following his death in 2011. The review is into the culture and practices of the BBC during the Savile years.
The NSPCC says it has now been contacted by 326 people in connection with abuse by Savile.