Jimmy Savile: Inquiry into links with home for sick children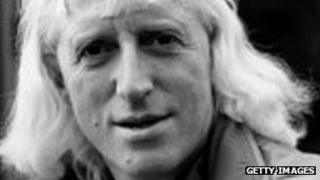 The NHS is to investigate Jimmy Savile's connections with a former home for children recovering from illness.
Woodhouse Eaves Children's Convalescent Home in Leicestershire is the 33rd NHS organisation to come under review for links with the serial sex attacker.
Savile is believed to have abused hundreds of victims - many of them children.
Health Minister Norman Lamb said reports on Savile's links to NHS institutions should be ready by June.
Mr Lamb said the inquiry into Woodhouse Eaves - now closed - would be carried out by University Hospitals of Leicester NHS Trust.
The Trust said it believed "an incident may have occurred more than 40 years ago", and it would "thoroughly investigate the evidence".
The former Top Of The Pops and Jim'll Fix It presenter died in October 2011 - a year before allegations that he had sexually abused children were broadcast in an ITV documentary.
A report by the Metropolitan Police and NSPCC said Savile had "used his celebrity status and fund-raising activity to gain uncontrolled access to vulnerable people across six decades".
Broadmoor, Stoke Mandeville and Leeds General Infirmary are among the NHS hospitals where investigations are already under way.
An independent inquiry into what the BBC knew about Savile is being led by Dame Janet Smith.