Rennard set to take legal action over Lib Dem suspension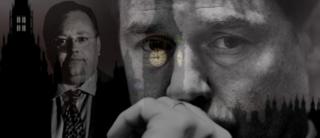 Lord Rennard has taken a step closer to starting legal action against the Lib Dems after claims that he sexually harassed female party members.
The peer had his party membership temporarily suspended after he refused to apologise over the claims.
But he is expected to seek a court order within days to try and halt disciplinary proceedings against him.
Lib Dem sources have warned of "a blood bath, the like of which the party has not seen before".
The Lib Dems have suspended their former chief executive from the party for 14 weeks while it investigates whether he has brought it into disrepute by refusing to apologise for causing distress to a number of women.
The BBC understands Lord Rennard has instructed a senior QC to advise him on the lawfulness of the party's action in suspending him following allegations that he made unwanted sexual advances to several activists and touched them inappropriately.
The BBC News channel's chief political correspondent Norman Smith said the peer believed the party had not followed "due process" in its handling of his case
Sources, he added, have warned that legal action could lead "to a blood bath, the like of which the party has not seen before".
They suggest any court case would result in the disclosure of the original report into Lord Rennard's conduct and details about the complainants.
The party's internal investigation, led by senior barrister Alistair Webster QC, concluded the claims against Lord Rennard by four women could not be proved beyond reasonable doubt.
But it also said the evidence of the women who lodged complaints was "broadly credible" and urged the peer to apologise.
Lord Rennard has said he feels "regret" if he unintentionally "hurt" any women but added that he would not apologise for something he "had not done".
He has also expressed concerns that an apology would be an admission of guilt and make him liable to potential legal proceedings by his accusers.
'Principle'
Bridget Harris, one of those who made a complaint against Lord Rennard, told the BBC she would not rule out future legal action against the peer but any such step would "depend on the circumstances".
Another complainant, Alison Smith, said: "Rather than trying to justify unacceptable behaviour by threatening legal action, Rennard and his advisors might better take a few days to reflect on why the allegations of sexual harassment have struck such a chord."
The party's handling of the issue has been criticised by several former party leaders.
Lord Ashdown said it had not been the Lib Dems' "finest moment" although he insisted leader Nick Clegg had "stood up for a really important principle" in insisting that women in the party be treated with respect.
Lord Steel said most party members would be "horrified at the mess being made of this at the centre of the party".
He told the BBC that discussions between the two sides could only take place if Lord Rennard were allowed back into party: "It [the dispute] is pulling the Lib Dems apart at a time when we should be concentrating on the issues of the day in Parliament and campaigning in the country with elections coming up."
'Media spectacle'
But Mr Clegg has said it was "the right judgement" for him to demand an apology from Lord Rennard.
"We stand by everything we have done," a party source told the BBC's Norman Smith.
The latest developments come amid calls from a member of the party's Federal Executive Committee for external mediators, such as Acas, to be brought in.
Candy Piercy said the disciplinary process should be suspended to allow "mediators time and flexibility to resolve this extremely damaging situation".
"Every hour that this media spectacle continues damages the hard work that Liberal Democrat campaign teams are doing across Britain," she said.
Sources close to Lord Rennard have accused party president Tim Farron of seeking to "sabotage" any process of mediation in order to undermine the peer's position.
Speaking on Monday, Mr Farron defended the party's actions in an e-mail to members, saying "everyone in the party has a responsibility to treat others with respect, and no length of service can or should lessen that obligation".
Although Lord Rennard has been suspended by the Liberal Democrats, he can still attend parliament and vote in Lords debates as an independent peer.