Disabled tenants in housing benefit cuts appeal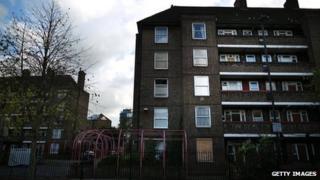 Five disabled tenants are asking the Court of Appeal to exempt them from housing benefit cuts affecting social sector residents with spare bedrooms.
They lost their High Court challenge to the government's changes - dubbed a "bedroom tax" by critics - last July.
Lawyers for the group say the regulations applying in England, Wales and Scotland fail to reflect the needs for accommodation of disabled people.
Judges had ruled the cuts were not unlawfully discriminatory.
Since April last year, people deemed to have one spare bedroom have had their housing benefit reduced by 14% while those with two or more spare bedrooms have seen reductions of 25%.
The group includes wheelchair user Richard Rourke, 46, from Bakestone Moor, Derbyshire, who says he needs an additional bedroom to store mobility equipment.
Among the others involved in the case is Charlotte Carmichael, from Southport, Merseyside, who says her spina bifida means she is unable to share a bedroom with her husband, who is also her full-time carer.
Opening the appeal, Martin Westgate QC maintained judges had failed to scrutinise the government regulations properly.
He said: "If the High Court had applied the correct approach it would have been bound to have found the discrimination in these cases was disproportionate and imposed an excessive and unfair burden on a vulnerable class of tenants."
Mr Westgate argued a scheme of discretionary payments worth £190m overall provided by the government to help those affected was not appropriate to replace "what would otherwise be a long-term benefit to which someone qualifies as of right".
A Department for Work and Pensions spokeswoman said: "We remain confident that we have fulfilled our equality duties to disabled people with the policy.
"Reform of housing benefit in the social sector is essential, so the taxpayer does not pay for people's extra bedrooms."
The tenants are being represented by law firms Leigh Day and Public Law Solicitors and also have the backing of the Equality and Human Rights Commission.
The challenge originally concerned 10 families but five cases involving disabled children are no longer being pursued because they have since become subject to an exemption from the benefit changes.