Former Broadmoor worker Alan Ostler admits misconduct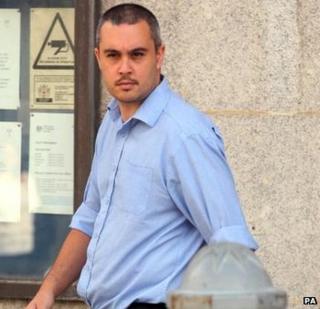 A former worker at the high-security Broadmoor hospital has been given a suspended prison sentence after passing information to tabloid newspapers.
Alan Ostler, 32, from Uxbridge, north-west London, pleaded guilty at the Old Bailey to committing misconduct in public office in 2008.
Ostler was an assistant technical instructor at the Berkshire hospital.
He was sentenced to seven months in jail, suspended for 18 months, and given 150 hours of community work.
Ostler was arrested under the Metropolitan Police's Operation Elveden investigation which is is looking into corrupt payments to police and public officials.
A number of high-profile convicted criminals are housed at Broadmoor, a psychiatric hospital in Crowthorne.
Ostler had been employed at the hospital for six years when he committed the offence.
He contacted a newspaper and supplied it with information about a patient's gender re-assignment process. Although a report was published, the newspaper had confirmed the story with another source and did not pay Ostler.
Prosecutors said Ostler later attempted to sell a story about a Broadmoor's Got Talent contest. The story was not published, he but was given a £250 "kill fee" for the information.
The judge said the incident "aggravated" Ostler's offence.
In his sentencing remarks, judge Nicholas Hilliard QC added: "The public are entitled to expect that those who hold a public office and are paid by the public will not abuse that trust for money as you sought to do.
"This offence, however, is at the lower end of the scale. You did not hold a senior position and were not in fact paid money for the information which is the subject of the charge to which you have pleaded guilty."