Dave Lee Travis trial: DJ 'groped woman at dance'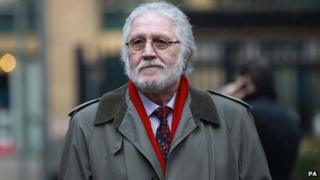 DJ Dave Lee Travis told a young woman she had "won the key" to his hotel room after groping her during a dance at a corporate event, a court has heard.
The woman, then aged 23, said he also touched her indecently at a British Airways Christmas party in 1993.
She told London's Southwark Crown Court she thought Mr Travis was a "dirty old man" but was "too young and too stupid" to go to the police at the time.
Mr Travis, 68, denies 13 indecent assaults and one sexual assault.
Giving evidence from behind a screen, the woman, who was a BA employee at the time, told jurors Mr Travis made her sit on his knee at a table where there were a number of her bosses.
She did not want to make a scene but Mr Travis, a compere at the event, had put his hand on her leg, said the woman, who cannot be named for legal reasons.
Although she tried to push his hand away, he proceeded to grope her, she added.
At that point, she tried to distract Mr Travis by talking about the raffle that was part of the evening's events, the court heard.
"I said to him I hadn't won anything. That's when he slapped it [a raffle ticket] on his head and said 'You've won the key to my room,'" the woman told the court.
She said she was "really scared" and when she told him she wanted to go to the toilet with a colleague, he told her: "Don't confer with your friends."
Dance competition
During both alleged assaults, Mr Travis, whose real name is David Griffin, grabbed the woman to dance the Lambada with her, "grinding" against her, the court heard.
The first time they met, the woman and her dance partner won a Lambada competition that had been organised and judged by Mr Travis, jurors were told.
After naming her the winner, he ordered the song to be repeated, grabbed her and started dancing, the woman said.
"I was trying to put as much distance between us as I could, as I thought it was inappropriate, but he was a lot bigger than me and he kept pinning me against his leg," she told the jury.
"He was old enough to be my father. I just thought 'dirty perv'."
Asked why she did not tell her bosses or the police, she said: "He was a big star. I thought 'Who was going to believe me?'"
'In shock'
A few weeks later, at the BA Christmas party, Mr Travis allegedly "made a beeline" for the woman to dance the Lambada with her again.
She said he again groped her as they danced, and she left the party " in shock".
The woman told friends what had happened in conversations in September or October 2012 and went to the police in August last year, the court heard.
A second woman told the court she thought Mr Travis was a "dirty old man" after he put his hand up her skirt during a car journey when she was 21.
She said she was left "shocked and mortified" by the alleged incident that happened as she shared a lift with Mr Travis and her friend after he was the DJ at a party.
The jury was told she went to the police last year after hearing Mr Travis deny allegations made against him.
"He was quoted as saying he would never behave in that way. I thought 'Well, you did behave in that way to me,'" she said.
Her evidence did not relate to a specific charge against Mr Travis, jurors were told.
Mr Travis, from Buckinghamshire, is charged with counts of indecent assault between 1976 and 2003 and a sexual assault in 2008.
The DJ and presenter is accused of assaulting 11 women, one of whom was 15 at the time of the alleged crime.
The trial was adjourned until Tuesday.