Fugitives face extra jail time under new law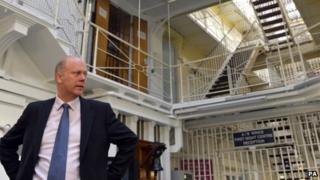 Criminals who go on the run to avoid being sent back to prison could face an extra two years in custody under plans announced by the government.
The proposals will target offenders who have been released from prison but abscond to avoid being recalled for breaching their licence conditions.
Under current laws, once caught they can be sent back to prison to serve the remainder of their sentence.
There is no additional penalty for going on the run.
The government plans to introduce legislation that will create an offence of being unlawfully at large following recall to custody, which will carry a maximum two-year sentence.
The Ministry of Justice said about 800 criminals a year could face prosecution.
It is already against the law to escape from jail, not to surrender to custody when on bail, and not to return from release on temporary licence.
Making the announcement earlier, Justice Secretary Chris Grayling said: "It is unacceptable that criminals who disregard the law and attempt to evade the authorities are able to do so with impunity.
"I am today sending a clear message to those people that if you try to avoid serving your sentence you will face the consequences when you are caught.
"From my first day in this job I have been clear that punishment must mean punishment.
"We're on the side of people who work hard and want to get on and my message is simple - if you break the law, you will not get away with it."
However, Labour's shadow justice secretary, Sadiq Khan, said: "David Cameron's government would be better focusing its energies on stopping criminals escaping in the first place. Because of their justice on the cheap, a Category A criminal - the most serious held in our prisons - escaped on their watch, something that never happened during Labour's thirteen years."
A Ministry of Justice spokesman said the proposals would be introduced into Parliament in the next few weeks.
He said the law was expected to be on the statute books in early 2015.