Briscoe trial told of talks with paper about Huhne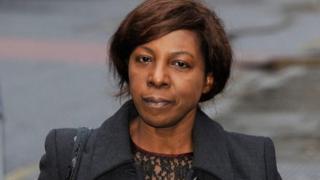 Constance Briscoe was approached by a journalist investigating intimate details about Chris Huhne and Vicky Price, she claimed in a police interview played to a jury.
In it she denies talking to the Mail on Sunday writer about the swapping of speeding points between the couple.
Ms Briscoe says the reporter was asking her about two other stories concerning the ex-cabinet minister and his wife.
The barrister denies intending to pervert the course of justice.
Prosecutors at Southwark Crown Court have said Ms Briscoe, 56, of Clapham, a part-time judge, helped her friend Vicky Pryce reveal information to the press about swapping the points in 2003.
The jury has heard that Ms Briscoe had then tried to mislead the police and the court during an investigation into her actions.
'Nonsense'
Ms Briscoe was arrested in October 2012 after making two statements to police during the Huhne investigation in which she denied any dealings with newspapers over the point-swapping story and allegedly misrepresented her relationship with Pryce.
In the interview with Kent Police in October 2012, Ms Briscoe claims that the journalist asked her if she knew about Ms Pryce breaking off her engagement to Mr Huhne after he allegedly admitted he had had a liaison with a man.
She claims that the journalist told her that his paper had people in Europe trying to find out who the man was.
Ms Briscoe, who declined legal advice, tells the police that she knew nothing about the story and was unable to assist the journalist.
She also tells the police that she is volunteering this information because she is "not having this bloody nonsense" about having perjured herself.
During the interview, Ms Briscoe claimed she knew nothing of Pryce's dealings with Sunday Times political editor Isabel Oakeshott about the speeding points.
But she said Pryce told her that she and Ms Oakeshott had recorded a phone conversation she had with Huhne.
"When she told me this I was extremely surprised and I asked where the tape was and that's when she said that Isabel had gone off with it," she told officers "I just thought to be honest the whole thing was stark raving bonkers," she went on, adding: "I mean it's just madness."
'Terrible state'
She told police: "It was to do with Chris Huhne talking to Vicky Pryce and Isabel, as I understand it, was present.
"I thought that was stark raving mad and at that point I suggested to Vicky that anything she had done she really needed to get some advice."
Ms Briscoe denied offering Pryce legal help in revealing the story, and said she had only sat in on a meeting between the economist and Mr Dillon to offer support, as the economist had been in a "terrible state".
The barrister then told police that she did not know where reports that Pryce had confided in her over the points allegation had come from.
Later, forensic scientist Jennifer Lord told the court that she analysed both the statement Ms Briscoe had given to police to copy during her interview, plus the one she had submitted to an expert for analysis, and found that they were not the same.
It is alleged that Ms Briscoe deliberately gave a copy of a different document to her expert Maurice Rode so he would find that an extra "I" - said to have been deliberately inserted by the lawyer in a bid to change its meaning - was possibly due to a printer malfunction.
The alleged alteration, which appeared to show that Briscoe was claiming to have refused to talk to Mr Dillon, proved useless when emails of their correspondence were revealed, the court has heard.
The trial continues.